OPEC seems to be losing market share year on year in its two largest markets, which are the United States and Asian developing countries such as China and India, which seem to be betting more and more heavily on cheaper Russian URALS oil. This is causing demand for WTI and Brent crude to drop significantly. Prices and demand are not seen to be helped by the growing expected slowdown in the Middle Kingdom, which is the largest buyer of this crude. The next OPEC meeting will take place on 4th of June, and it is possible that we will see drastic decisions taken by the Arab states.
Restrictions on imports from Russia are counterproductive to the intended effect
According to the European economic think-tank Bruegel, the European Union has imposed an embargo on the import of almost all crude oil from Russia by sea and, since 5th of February this year, also on refined oil. The EU and the G7 alliance, together with Norway, have also introduced a price cap of US$60/b, which transport and insurance services must respect when transporting Russian products. As a result, Russian oil trade has changed rapidly, shifting its customers from developed countries to Asian developing countries, mainly China and India, which, according to OPEC data, together provide 20 percent of global oil demand. Today, as much as 60 percent of Russia's exports go to these two countries. This shift has meant that overall oil sales, rather than declining, are growing by around 7 per cent year-on-year. Purchases of Russian URALS crude by China and India could significantly weaken demand for the WTI and Brent varieties popular in Europe or the USA.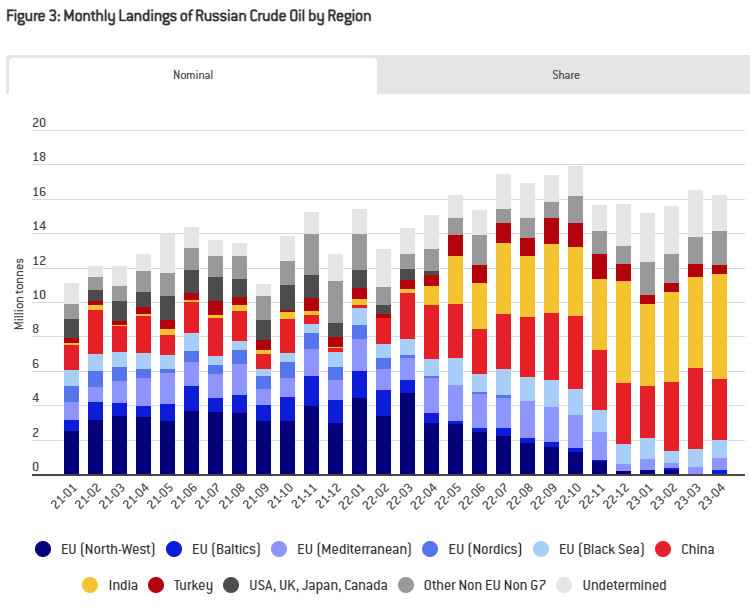 Source: https://www.bruegel.org/dataset/russian-crude-oil-tracker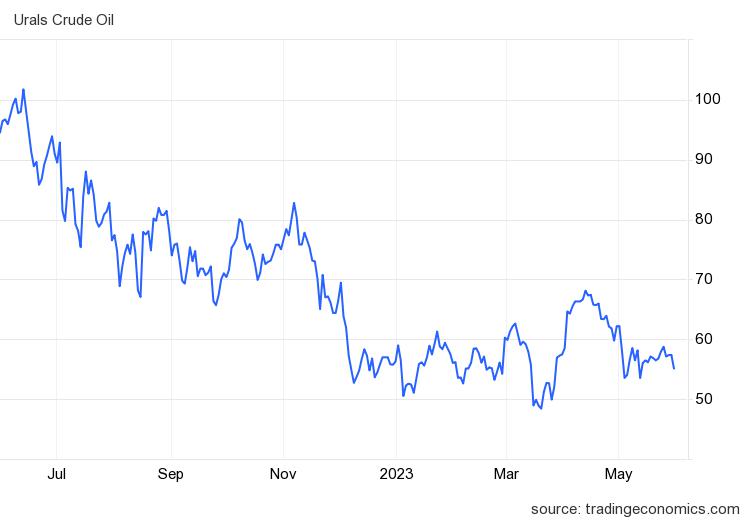 Source: TradingEconomics
Why could the upcoming OPEC meeting be crucial?
It appears that OPEC's share of major economies is declining year on year. Apart from the previously mentioned Asian markets, exports to OPEC's main ally, the US, have been declining continuously since 2008. Indeed, the US seems to prefer producing for its own consumption rather than supporting its ally.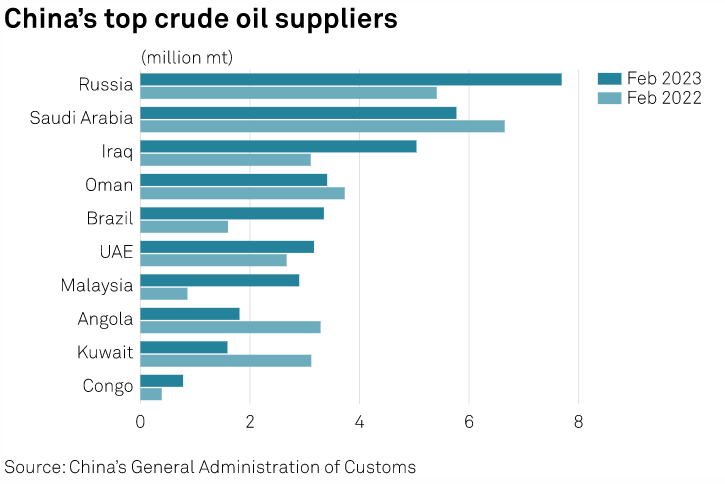 Source: China's General Administration of Customs

Source: https://www.eia.gov/dnav/pet/hist/LeafHandler.ashx?n=pet&s=mttimxx1&f=m
If the Cartel fails to secure its contracts with crude buyers, it may be forced to take drastic steps, such as significantly increasing production to start being more competitive with Asian countries, thereby matching the current demands of major customers. Such a decision could lead to a renewed collapse of the oil price in the markets. Therefore, the forthcoming cartel meeting on 4th of June could be crucial for the future of this market.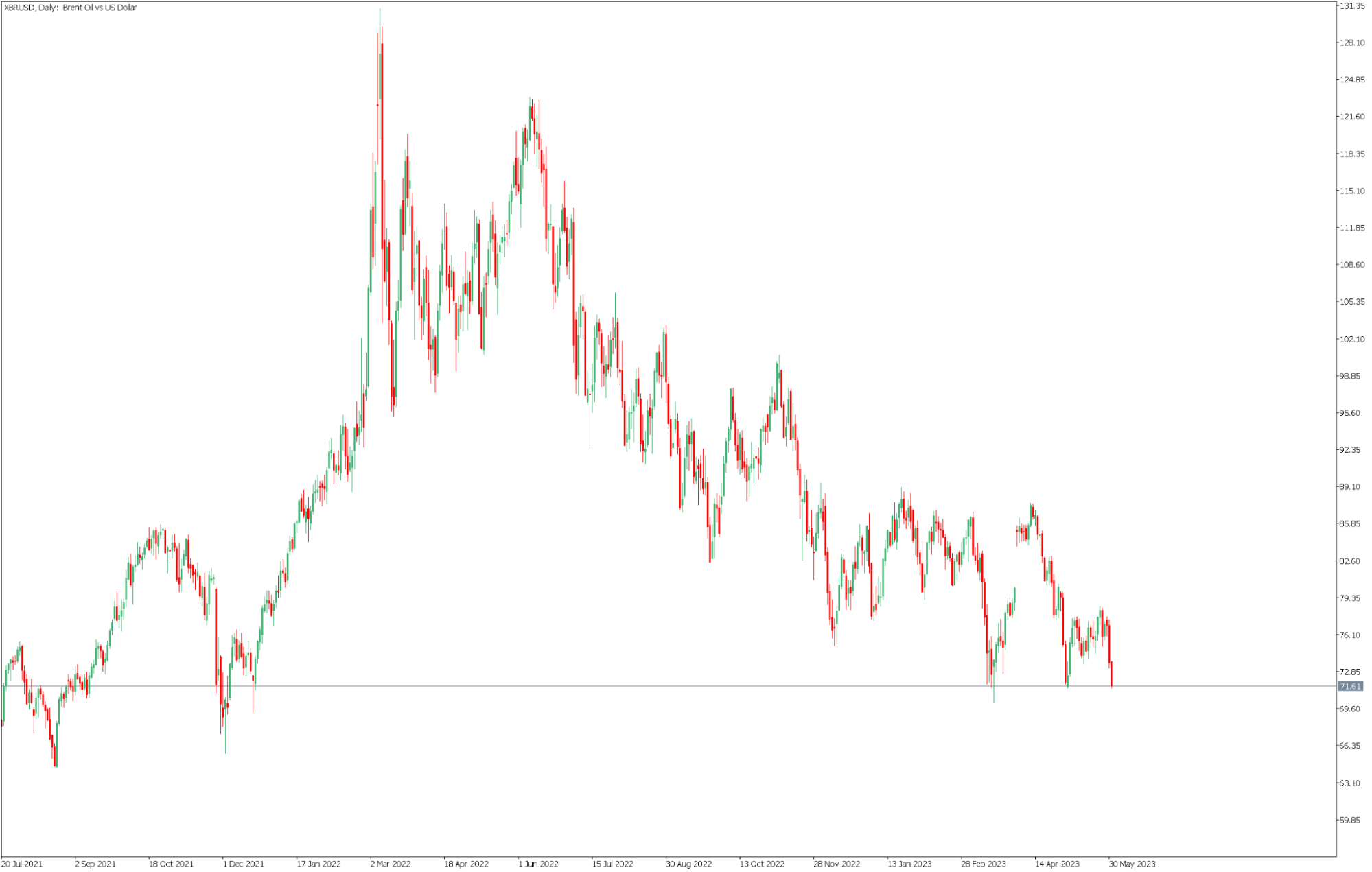 Source: Conotoxia MT5, XBRUSD, Daily
Grzegorz Dróżdż, CAI, Market Analyst of Conotoxia Ltd. (Conotoxia investment service)
Materials, analysis and opinions contained, referenced or provided herein are intended solely for informational and educational purposes. Personal opinion of the author does not represent and should not be constructed as a statement or an investment advice made by Conotoxia Ltd. All indiscriminate reliance on illustrative or informational materials may lead to losses. Past performance is not a reliable indicator of future results.
CFDs are complex instruments and come with a high risk of losing money rapidly due to leverage. 73.18% of retail investor accounts lose money when trading CFDs with this provider. You should consider whether you understand how CFDs work and whether you can afford to take the high risk of losing your money.