Yesterday (22.05), President Joe Biden and House of Representatives Majority Leader Kevin McCarthy failed to reach an agreement on raising the US government's debt limit from its current level of $31.4 trillion. According to McCarthy, a possible default is only 10 days away. However, both parties have committed to further talks.
The United States has only USD 57.3 billion (as of 22.05.2023) of operating funds remaining. This represents a decrease of as much as USD 578 billion since the beginning of the year. During the same period, the US government issued as much as USD 84.3 trillion in additional debt. However, let's look deeper into the data and try to answer how serious the ticking insolvency threat is.
How this happened, I don't know....
Let us try to recount how the US budget situation has evolved since the beginning of the year. The budget deficit from 1 January to the end of April was as high as USD 925 billion, even though a surplus of USD 176 billion was created in April. Although we have not even reached the close of the first half of the year, the deficit has already exceeded 60 per cent of last year's total. This makes the US government now require more debt financing than a year ago. In part, this appears to be due to a mismatch between public spending and the current economic downturn. It should be noted here that the average monthly cost of debt servicing is around USD 70 billion. Each new debt incurred on average is more expensive than the previous one.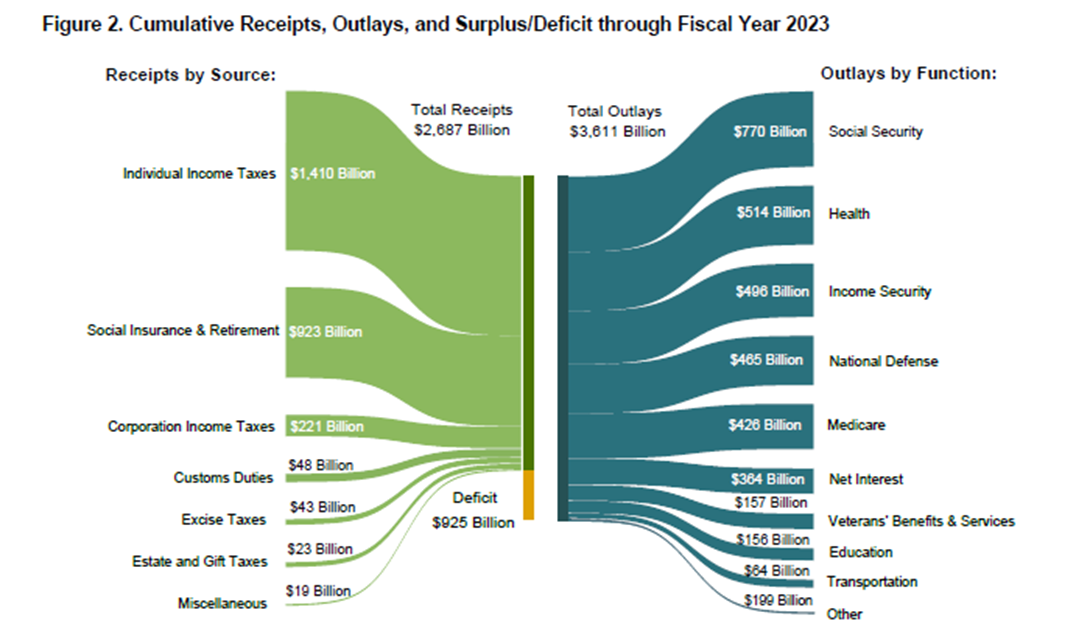 Source: United States Treasury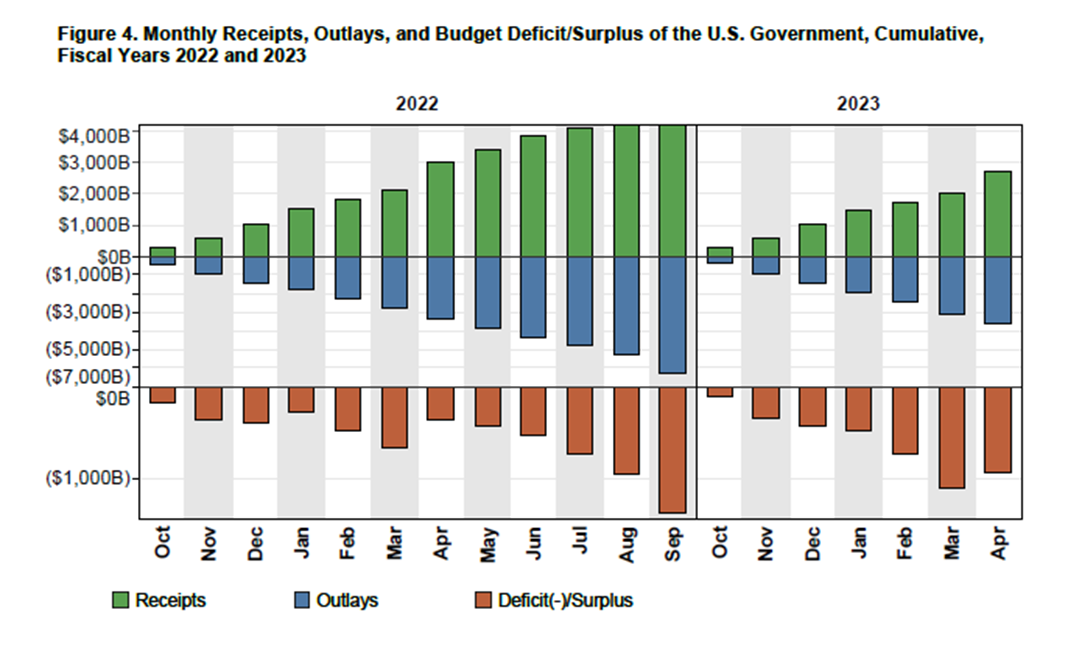 Source: United States Treasury
Will the government really run out of money?
From the US government's daily receipts and expenditures report (as of 22.05), we learn that the US currently has only USD 57.3 billion in operating funds. The Treasury has therefore depleted by USD 578 billion since the beginning of the year. During this time, the government has been able to buy USD 84.359 trillion of debt while issuing USD 84.825 trillion of debt. This has increased domestic debt by a further US$533 billion. The problem is that we have practically reached the debt limit already, with only US$20 million left in the pipeline. This would not be a problem if it were not for the ever-growing budget deficit mentioned earlier. Its effect has been to increase the cost of debt over the past month. This could be seen, among other things, from the decline in the value of the iShares Core US Aggregate Bond ETF (AGG). At present, however, investors seem to be mostly not pricing in a possible US technical default, as the major equity indices still appear strong.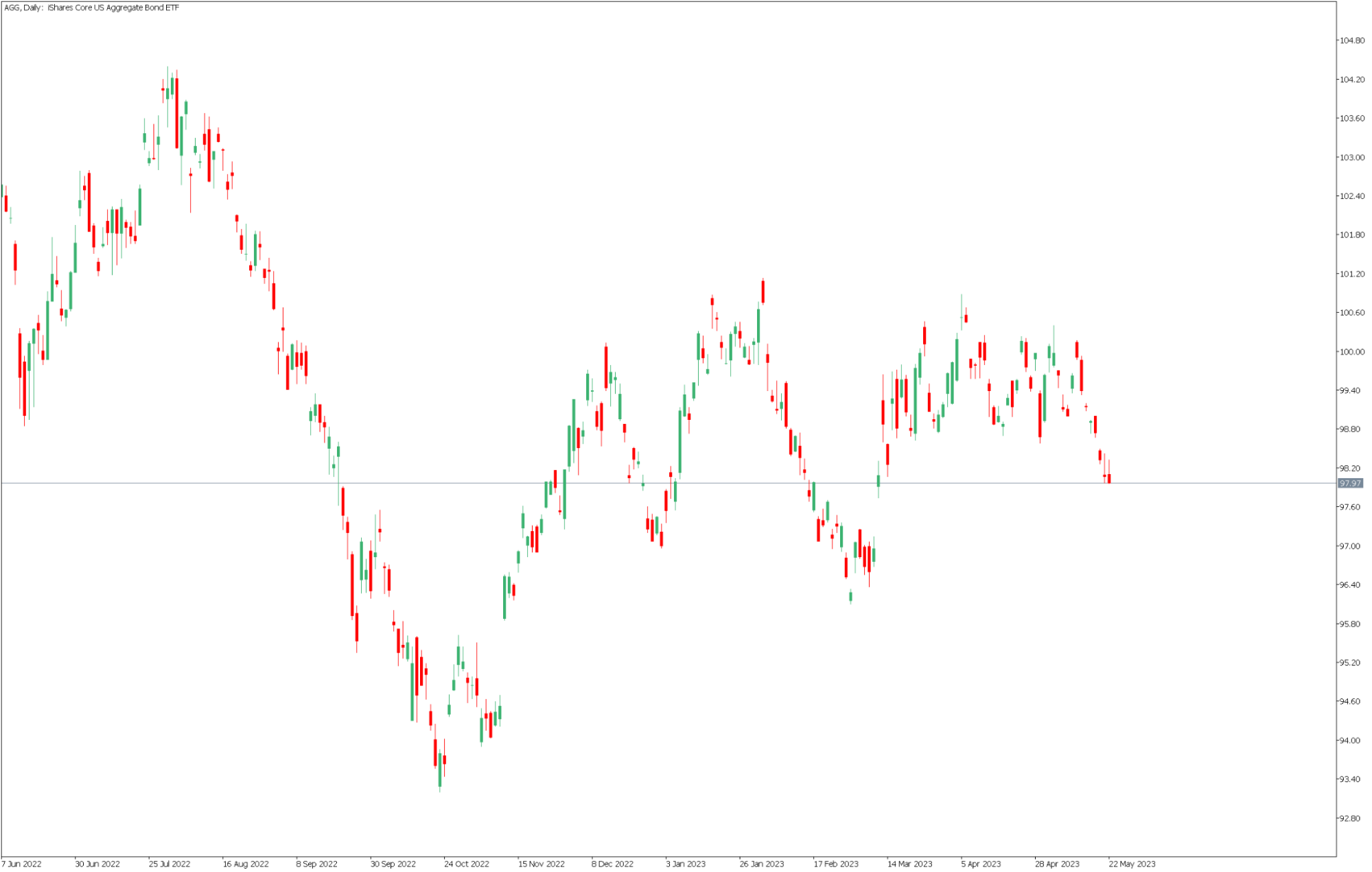 Source: Conotoxia MT5, AGG, Daily
According to an analysis by the Congressional Budget Office and the US Treasury Department, in the event of a short-term breach of the debt limit, the costs to the economy would be felt quickly. Even in such a scenario, economists forecast a sharp rise in interest rates and a fall in stock prices. Short-term funding markets, which are essential for the flow of credit that finances the day-to-day operations of the economy, would likely shut down. A similar situation already happened to the United States in 1978.
The current week could prove to be a particularly turbulent one in US politics. Particularly as both sides of the political spectrum nevertheless seem aware of the stakes and the possible consequences if a consensus is not reached.

Source: Fred
Grzegorz Dróżdż, CAI, Market Analyst of Conotoxia Ltd. (Conotoxia investment service)
Materials, analysis and opinions contained, referenced or provided herein are intended solely for informational and educational purposes. Personal opinion of the author does not represent and should not be constructed as a statement or an investment advice made by Conotoxia Ltd. All indiscriminate reliance on illustrative or informational materials may lead to losses. Past performance is not a reliable indicator of future results.
CFDs are complex instruments and come with a high risk of losing money rapidly due to leverage. 73.18% of retail investor accounts lose money when trading CFDs with this provider. You should consider whether you understand how CFDs work and whether you can afford to take the high risk of losing your money.