The price of oil has fallen by almost 50% since its peaks in March last year. Russia's assault on Ukraine may have been a key factor in the black crude price's previous record highs. However, it appears that the spectre of a global slowdown, stabilising supply chains and increased production of the commodity have led to the current declines. What can we expect in the future for this market?
OPEC report
A March report from the largest oil-producing cartel, OPEC, showed that despite the expected recession, average demand for the commodity would increase by 2.3% y/y. This is expected to be driven by demand from Asian countries, mainly China (up 4.75% y/y), India (up 4.96% y/y) and the rest of continental Asia (up 3.83% y/y). These could account for 30% of global oil demand. The report predicts that oil consumption would gradually increase with each passing quarter.
As demand increases, oil production is also expected to increase. Under OPEC's assumptions, we should see mild oil shortages in the first half of this year, but from Q3 onwards, global production is assumed to increase noticeably, which could lead to an average annual shortfall of 0.4 million barrels per day (b/d). Action from the producers' perspective seems to make sense, as it could lead to a medium-term slowdown in price declines, or even price increases, in order to increase oil inventories and use rising demand to their advantage in the second half.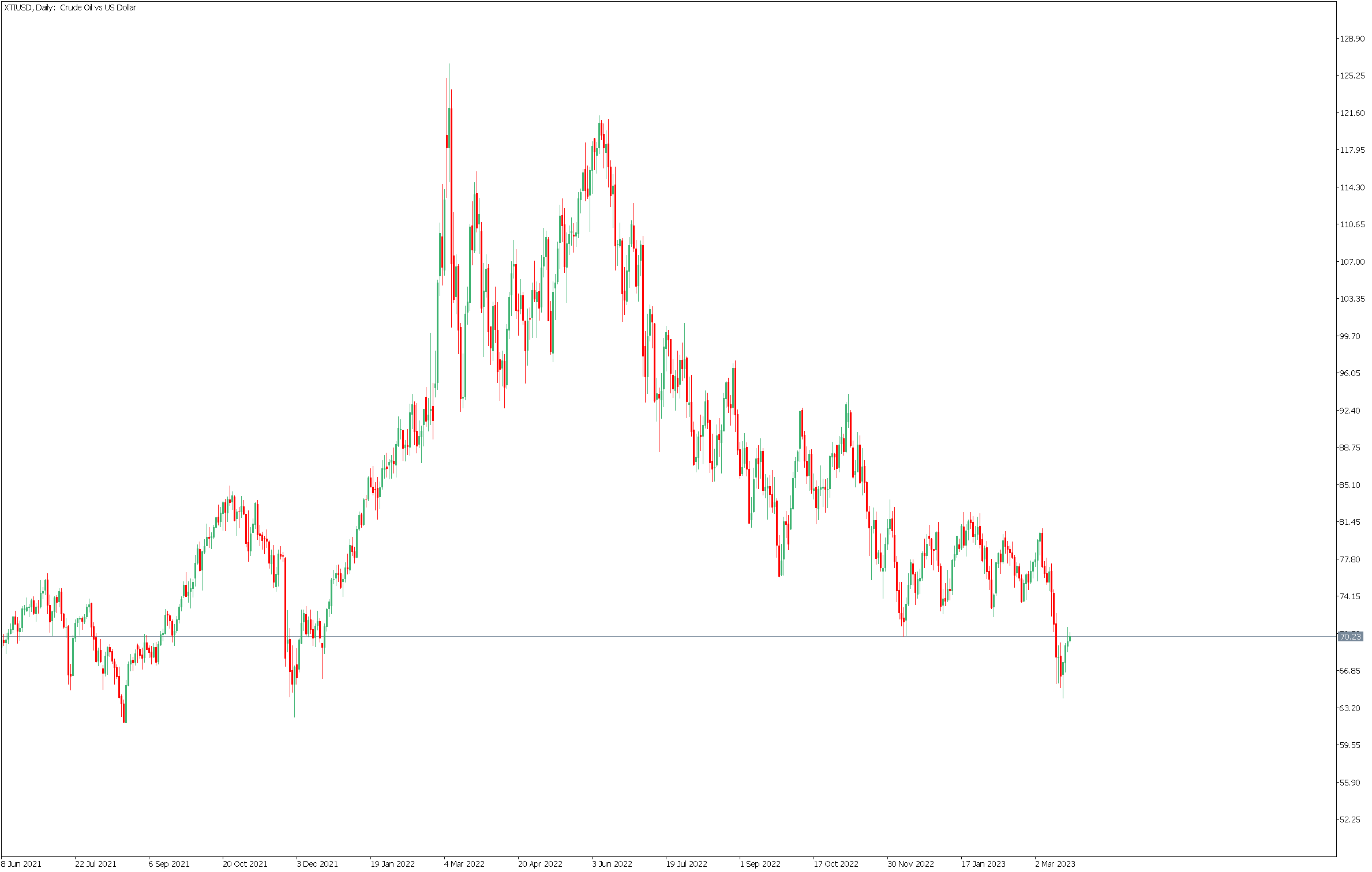 Source: Conotoxia MT5, XTIUSD, Daily
EIA report
"The Short-Term Energy Outlook," which is published monthly by the US Energy Information Administration (EIA), makes predictions about energy production, consumption and prices in domestic and international markets. According to the March report, global liquid fuel consumption is expected to increase by 1.5 million barrels per day in 2023 and by an additional 1.8 million b/d in 2024, with China driving growth in 2023. The report also suggests that the US gasoline consumption forecast for 2023-2024 has been raised by around 2% from previous forecasts. The current forecast for Brent crude oil is for an average price in 2023 of 77.1, just 1% above the last closing price. This is a decrease of 1% from the February forecast. The EIA, like OPEC, assumes that the oil price should stabilise in the first half of 2023, before slowly declining from quarter to quarter.

Source: EIA, STEO Report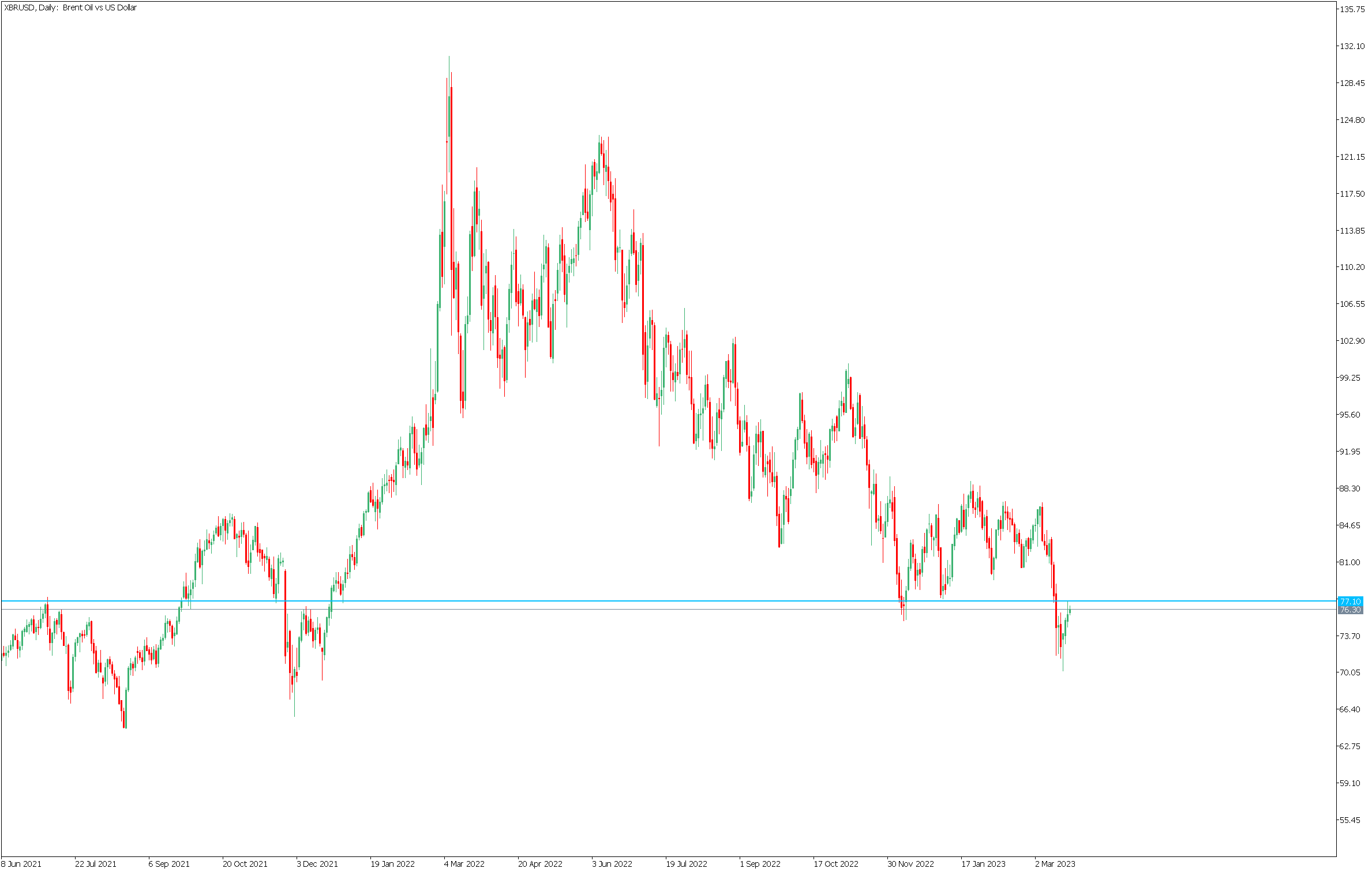 Source: Conotoxia MT5, XBRUSD, Daily
How might the Fed's decision affect the oil market?
Yesterday's interest rate hike and the current problems in the US banking sector may be cause for concern and signs of a crisis. Fed Chairman Jerome Powell said after the decision was announced that inflation remains far above the central bank's long-term target. This puts the central bank in a particularly difficult position of having to balance persistently high inflation with the spectre of a deterioration in the banking sector. Nevertheless, the recent intervention to rescue the payout of deposits not covered by the SVB bank's legal payout benefit is an attempt to rescue the current situation of the banking sector by other means. It seems that, should the series of banking sector bankruptcies continue, the economic slowdown would be greater than expected, which could have a negative impact on the oil price in the long term.
Grzegorz Dróżdż, Market Analyst of Conotoxia Ltd. (Conotoxia investment service)
Materials, analysis and opinions contained, referenced or provided herein are intended solely for informational and educational purposes. Personal opinion of the author does not represent and should not be constructed as a statement or an investment advice made by Conotoxia Ltd. All indiscriminate reliance on illustrative or informational materials may lead to losses. Past performance is not a reliable indicator of future results.
CFDs are complex instruments and come with a high risk of losing money rapidly due to leverage. 76,41% of retail investor accounts lose money when trading CFDs with this provider. You should consider whether you understand how CFDs work and whether you can afford to take the high risk of losing your money.