The liquidity problems of First Republic Bank, another US bank, emerged after the collapse of SVB and Signature Bank. Despite having significant deposits and wealthy customers, First Republic Bank became the worst performing bank on Wall Street. After a failed attempt to pump in $30 billion to prevent financial panic and bankruptcy, the bank is trying to save itself by selling some of its assets. In addition, six major central banks have signed liquidity support agreements to allow foreign banks easier access to US dollar funding. What does the future hold for the financial sector?
A few words about First Republic Bank
First Republic Bank is an American bank operating in the United States. It primarily serves private clients, businesses and non-profit organisations through lending, asset management, investment banking, business banking and private banking. The bank focuses on providing customised financial solutions to its customers and offers a wide range of services, including mortgages, auto loans, credit cards, deposits, savings accounts and brokerage services.
For the past two weeks, the crisis of First Republic Bank has been ongoing, leading to a drop of almost 90 per cent in the price of its shares. Despite the fact that the bank has a significant amount of deposits and also has wealthy customers, it has now become the weakest performing bank on Wall Street. A few days ago, faced with the threat of financial panic and the bank's collapse, 11 of Wall Street's largest banks decided to pump $30 billion of cash into First Republic Bank, however, this plan has not been successful and the bank is now trying to save itself from bankruptcy by selling some of its assets.
Share values of other Wall Street banks have started to stabilise, as can be seen from the listing of the Financial Select Sector SPDR Fund (XLF), which has halted declines.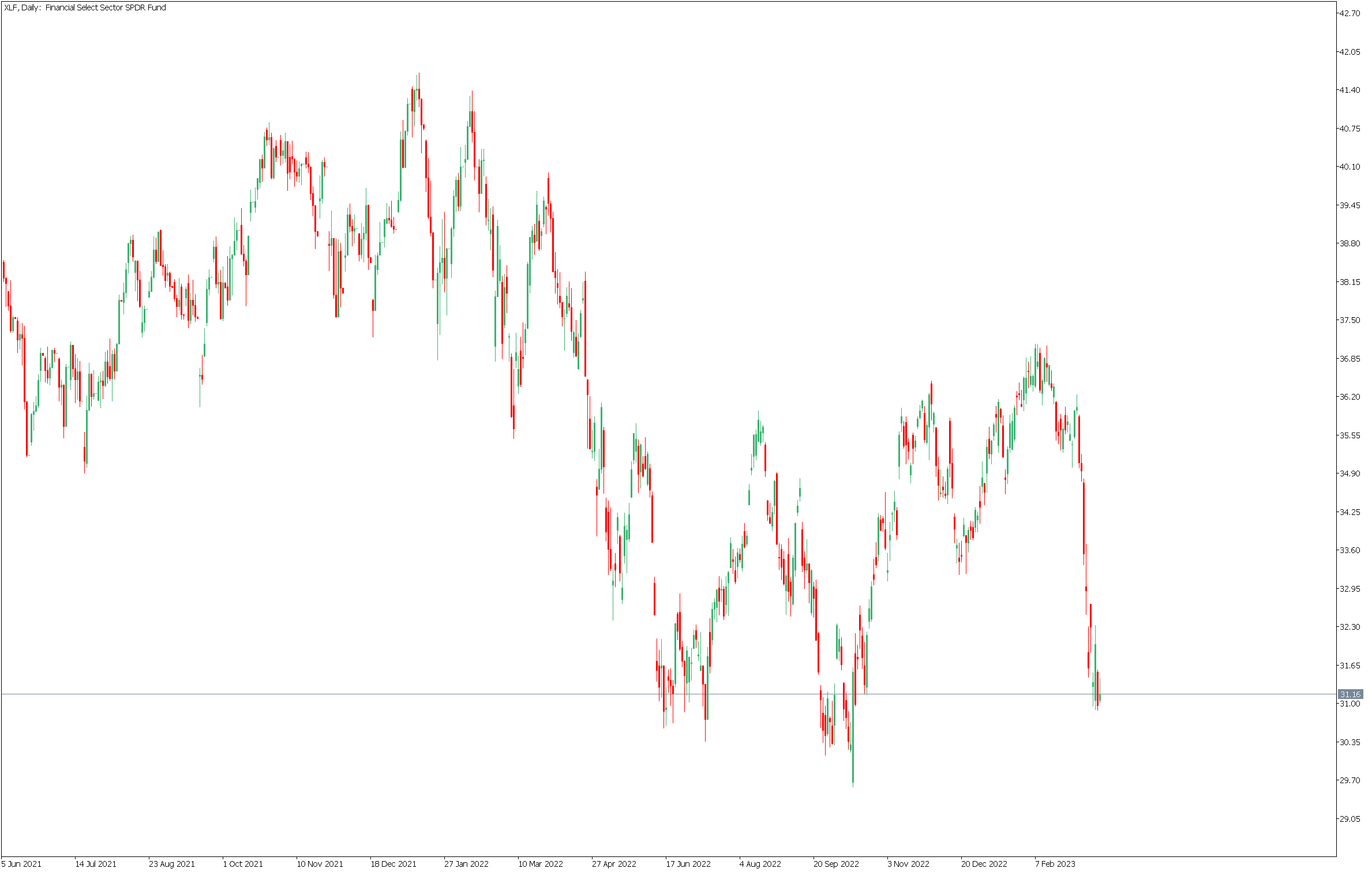 Source: Conotoxia MT5, XLF, Daily
The collapse of Silicon Valley Bank (SVB) and Signature Bank in a matter of days has taken a toll on the share values of many other banks, mostly mid-sized ones. Despite the huge sums involved in rescuing the banks, their problems still seem to be getting worse. Yesterday (20.03), we learned that six directors of Wall Street's biggest banks are trying to come up with a new plan for First Republic, among others, after the bailout package failed to stop the sharp sell-off in the bank's shares. The directors were discussing various options to support the California-based financial institution, including converting its deposits into an equity investment.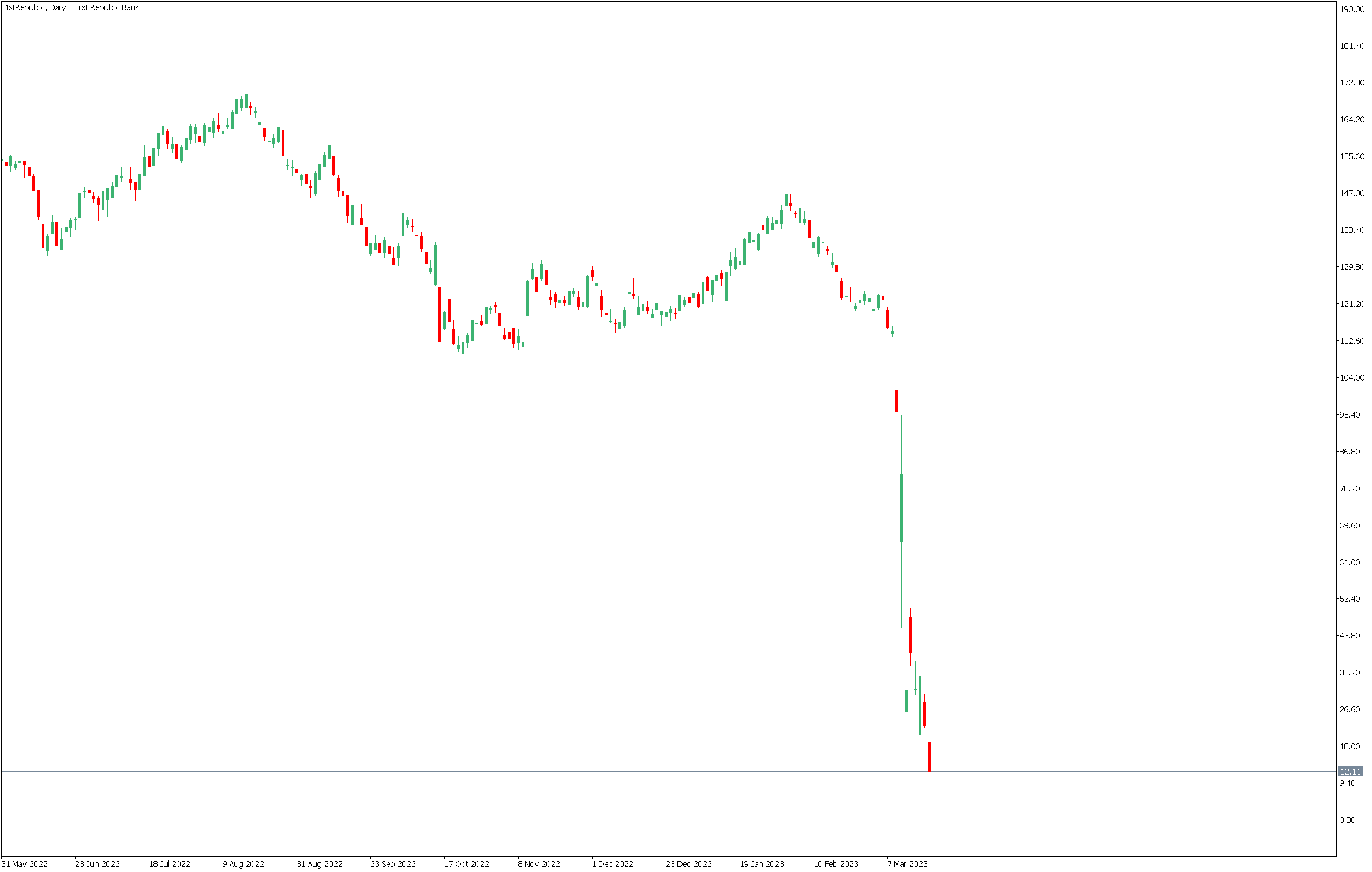 Source: Conotoxia MT5, 1stRepublic, Daily
Support from the Fed
The US Federal Reserve Bank and major central banks from around the world announced yesterday that they will work to make sure dollars remain readily available in the global financial system as banks in the US and Europe struggle. Central banks will offer so-called currency swap operations more frequently than before, allowing foreign banks to gain easier access to US dollar funding. Indeed, confusion in the financial sector could be compounded if investors find it difficult to move their funds internationally. Meanwhile, swap operations could help release these tensions.
In an interview with Yahoo Finance, David Long, managing director of research at investment firm Raymond James, discussed First Republic Bank's situation. Long said that rising funding costs and declining profits are making First Republic's situation difficult, but it is not the only bank that is in trouble. There is a risk of more bank failures and regulators and banks are taking steps to prevent this scenario. Long also spoke about medium-sized banks asking the government to insure all deposits for the next two years. Long believes this could be necessary to avoid a wider banking crisis. Regulators and central banks might o take further steps to stem the current crisis. It seems, however, that we will have to wait until Wednesday's Fed meeting for further specifics.
Grzegorz Dróżdż, Market Analyst of Conotoxia Ltd. (Conotoxia investment service)
Materials, analysis and opinions contained, referenced or provided herein are intended solely for informational and educational purposes. Personal opinion of the author does not represent and should not be constructed as a statement or an investment advice made by Conotoxia Ltd. All indiscriminate reliance on illustrative or informational materials may lead to losses. Past performance is not a reliable indicator of future results.
CFDs are complex instruments and come with a high risk of losing money rapidly due to leverage. 76,41% of retail investor accounts lose money when trading CFDs with this provider. You should consider whether you understand how CFDs work and whether you can afford to take the high risk of losing your money.