On Wednesday, we were able to learn about the Q3 financial report of the software giant Nvidia Corp. (Nvidia), a technology company that develops software and processors, among other things. Although the recent environment seemed unfavourable, the financial results may have positively surprised analysts.
Is Nvidia's performance dependent on cryptocurrencies?
Along with Intel and AMD, Nvidia is one of the top three suppliers of processors and graphics cards. It seems that one of its revenue drivers is the sale of chips, used especially in graphics cards. It could be thought that, due to their computing power, they were mainly bought by cryptocurrency 'miners' in recent years. Following recent problems and the bankruptcy of one of the largest cryptocurrency exchanges, bitcoin (BTC/USD) has seen a decline of more than 76% since its peaks.
However, Nvidia states: "We believe the recent transition in verifying Ethereum cryptocurrency transactions from proof-of-work to proof-of-stake has reduced the utility of GPUs for cryptocurrency mining." This category, according to the report, makes up around 1.2% of revenue, illustrating how small this segment is for the company.
Source: Conotoxia MT5, BTCUSD, Weekly
The company's Q3 revenue was US$5.93 billion (US$5.77 billion was expected), down y-o-y. by 22%. Cloud computing power sales service accounted for as much as 65% of the company's revenue and sales. This increased by 29% year-on-year. In second place was revenue from the gaming sector, accounting for 26% of revenue, but recording a decline of 51%, which appears to be the aftermath of the pandemic. With this data, we could say that Nvidia's performance does not appear to be linked to risks in the cryptocurrency market. An additional argument in favour of the independence of these assets is their correlation, which stands at 0.55 since the beginning of the year, which may indicate their low level of dependence.
Earnings per share EPS for the period came in at US$0.58, below analysts' expectations (US$0.69 was expected). The company's gross margin was also negative, falling to 53.6% (previously 65.2%), which the company attributed to increased chip inventory due to falling demand in China.
Maribel Lopez, principal analyst at Lopez Maribel comments: "...there is a long tail of AI workloads which will create a return to growth, but it may take several quarters ". "The issue for Nvidia is the short term, the next several quarters will be rough. Investors will have to take a longer view, similar to what's required with Intel." - Lopez said.
What does Wall Street think of Nvidia shares?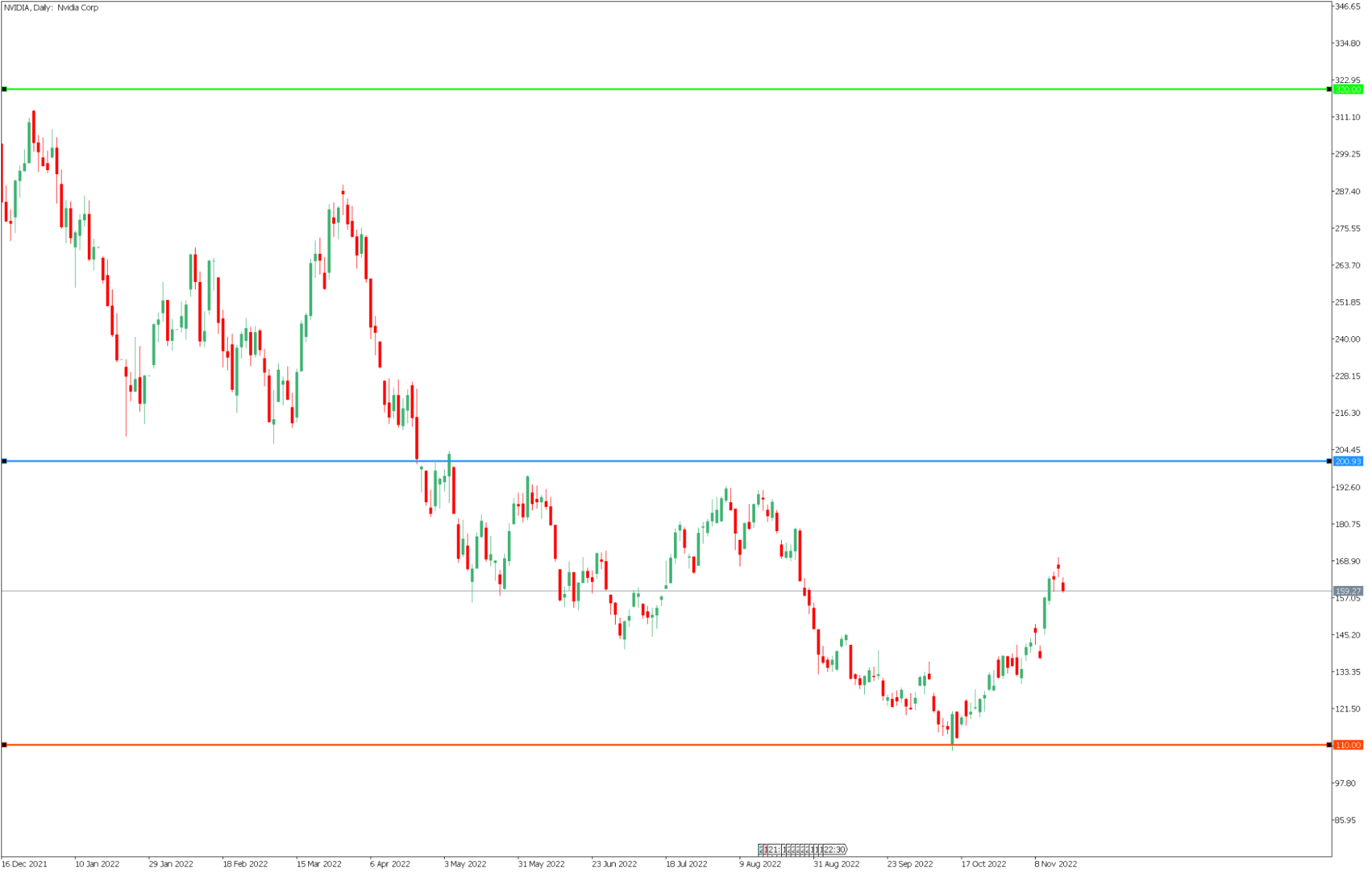 Source: Conotoxia MT5, NVDIA, Daily
According to Market Screener, the company has 40 recommendations, with 'buy' opinions prevailing. The average target price is set at USD 200.93, 26% higher than the last closing price. The highest target price is at USD 320 and the lowest is USD 110.
Author: Grzegorz Dróżdż, a Market Analyst of Conotoxia Ltd. (Conotoxia investment service)
Materials, analysis and opinions contained, referenced or provided herein are intended solely for informational and educational purposes. Personal opinion of the author does not represent and should not be constructed as a statement or an investment advice made by Conotoxia Ltd. All indiscriminate reliance on illustrative or informational materials may lead to losses. Past performance is not a reliable indicator of future results.
CFDs are complex instruments and come with a high risk of losing money rapidly due to leverage. 75,21% of retail investor accounts lose money when trading CFDs with this provider. You should consider whether you understand how CFDs work and whether you can afford to take the high risk of losing your money.