On Monday, we saw the 13F report published by Warren Buffett's fund (a report on assets filed by investment fund managers). In it, we got to know the new companies that the American billionaire's fund has bought for its portfolio. This investor has recently taken a particularly cautious approach to investing. Is this information a sign to make purchases?
Warren Buffett's current portfolio
Buffett, regarded as one of the world's top investors, has seemed reluctant to make new purchases in recent years. Currently, his securities are valued at USD 296 billion, with Apple (Apple) shares being the largest item in his portfolio, accounting for a staggering 42% of the portfolio value. In second place are Bank of America (BankofUS) shares, accounting for 10%, and in last place on the podium are Chevron Corp (Chevron) shares, accounting for 8% of the portfolio value.
As you could see, Buffett is not the biggest fan of diversification. His investment portfolio currently consists of 49 (mainly US) publicly listed companies, but the top 5 positions account for as much as 74.5%.
The current financial crisis does not seem to have had a significant impact on the billionaire's investments. Since the October lows on the stock markets, the value of Bekrshire Hathaway (BerkshireHa) shares has risen by more than 18%, compared to 13% against the S&P 500 index (US500).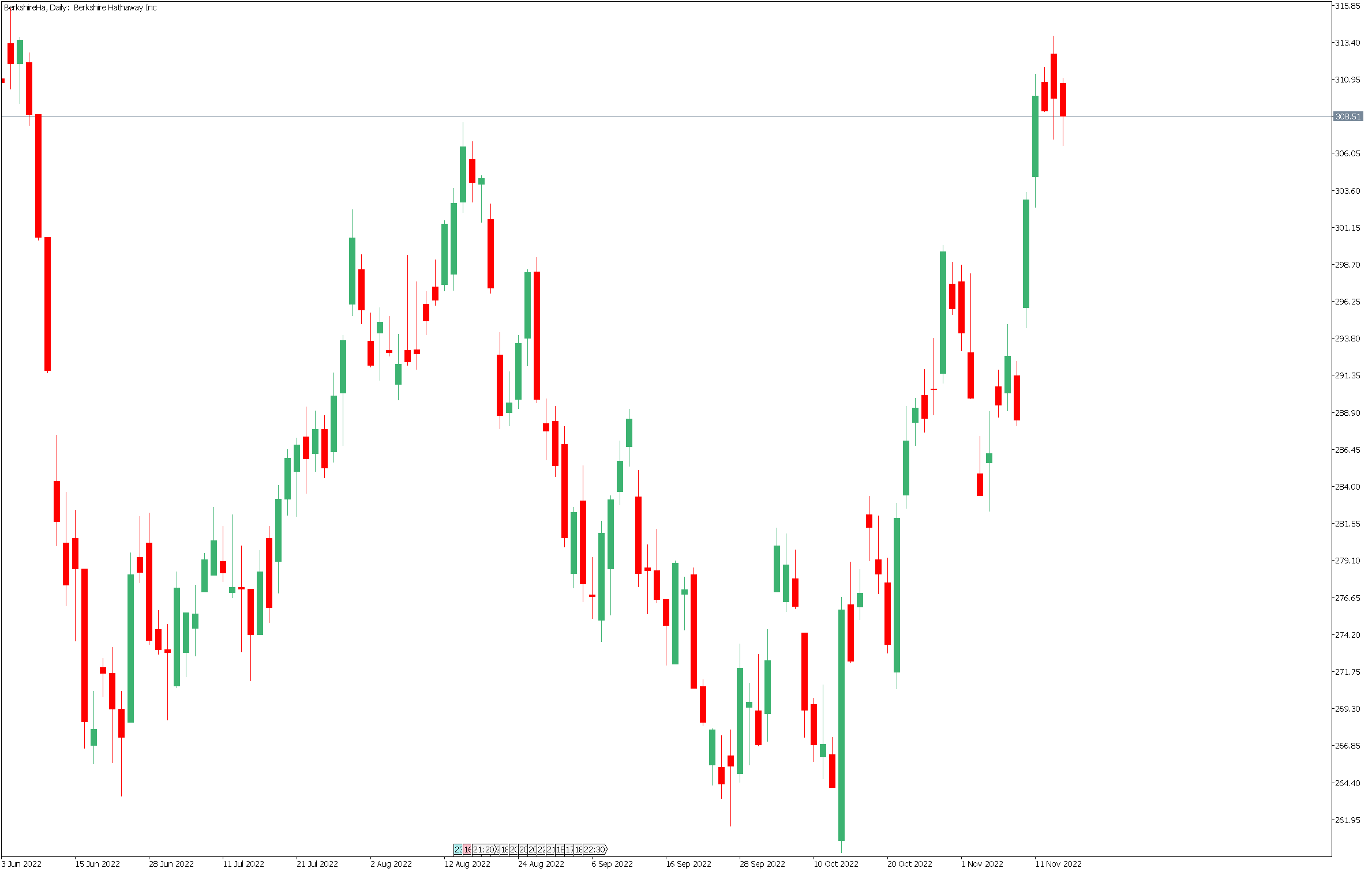 Source: Conotoxia MT5, BerkshireHa, Daily
Berkshire Hathaway's new purchases in Q3 this year.
The most surprising new purchase appears to be shares in one of the world's largest semiconductor manufacturers, Taiwan Semiconductor Manufacturing (TaiwanSemic). This company manufactures, tests and sells integrated circuits. Interestingly, one of its significant customers is Apple, Buffett's largest investment position. Does this mean a redirection of capital by the fund to the East? The company currently accounts for 1.4% of the value of his portfolio.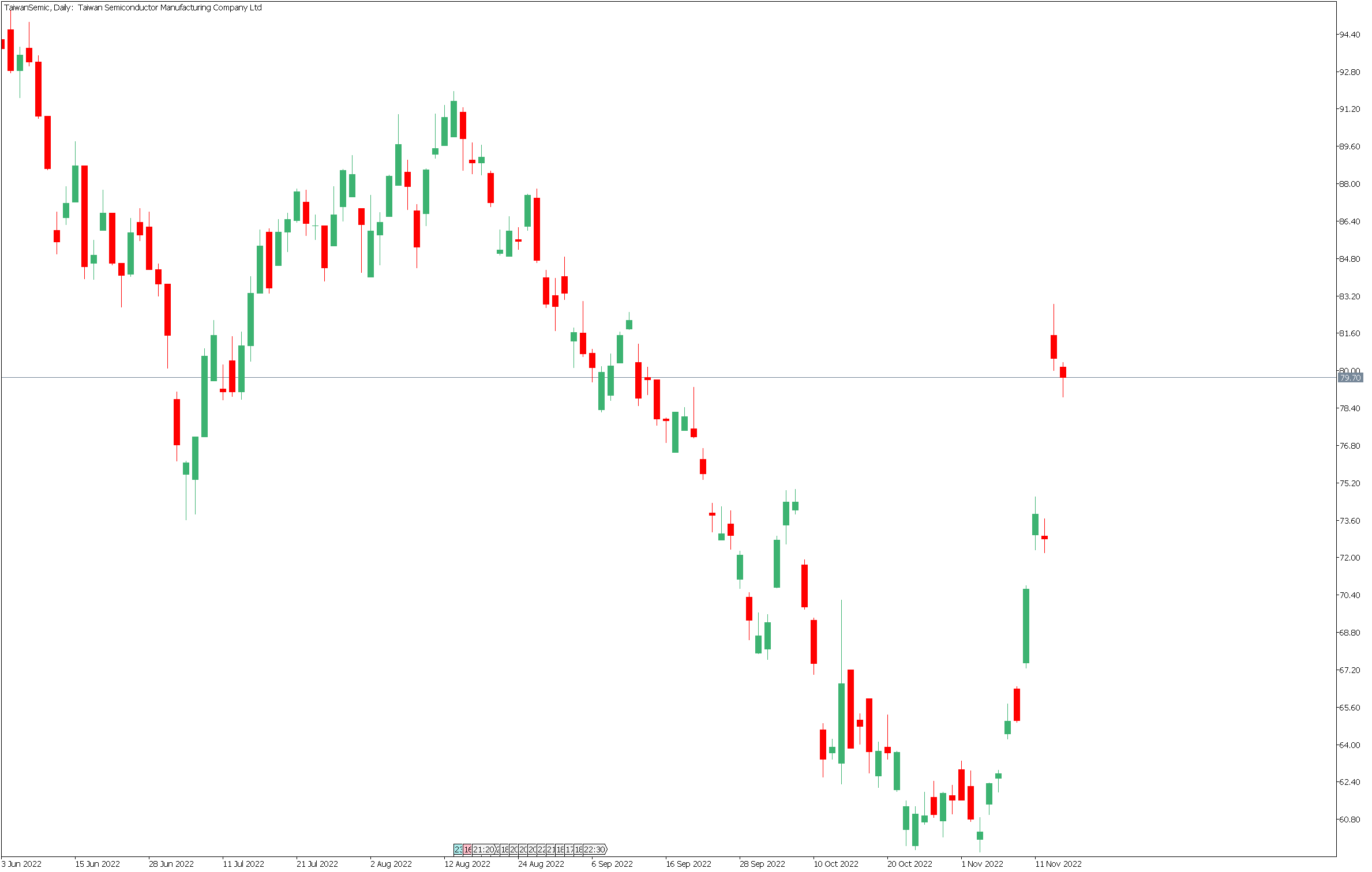 Source: Conotoxia MT5, TaiwanSemic, Daily
The second newcomer is Jefferies Financial Group (Jefferies) a US multinational independent investment bank and financial services company. Which, when purchased, represents only 0.05% of the portfolio and is one of the smallest positions in the fund. However, it appears to be a stable company with positive operating profits.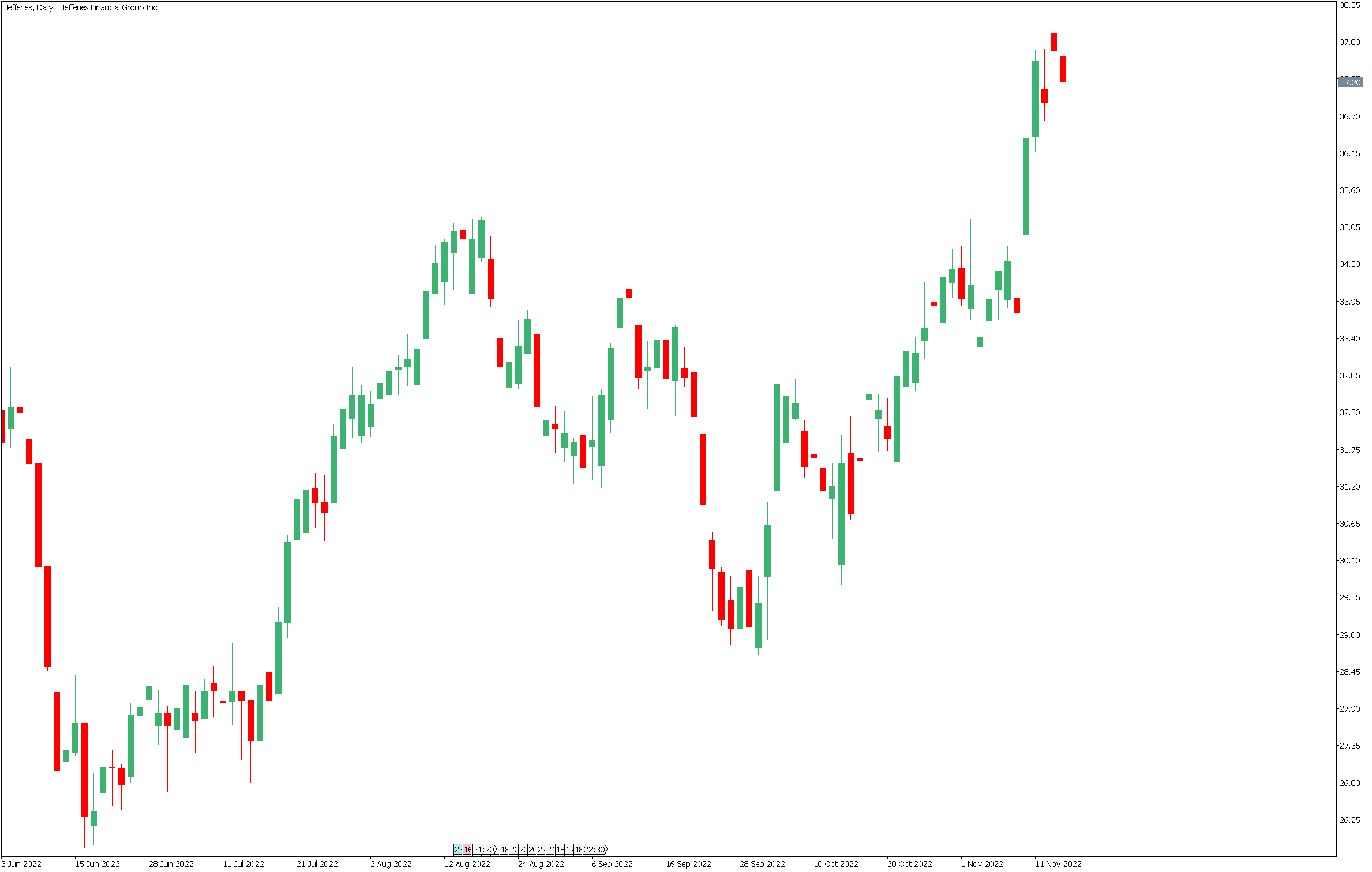 Source: Conotoxia MT5, Jefferies, Daily
Buffett increased investments in, among others: Occidental Petroleum Corporation (OcPetroleum) - by 22%, Paramount Global (Paramount) - by 16%, Chevron Corp. (Chevron) - by 2% and RH Common Stock (Rh) - by 8%.
We could also learn from the 13F report that it has reduced its position in 6 companies, and closed completely one of them from the real estate sector STORE Capital Corp (STORE).
Grzegorz Dróżdż, Junior Market Analyst of Conotoxia Ltd. (Conotoxia investment service)
Materials, analysis and opinions contained, referenced or provided herein are intended solely for informational and educational purposes. Personal opinion of the author does not represent and should not be constructed as a statement or an investment advice made by Conotoxia Ltd. All indiscriminate reliance on illustrative or informational materials may lead to losses. Past performance is not a reliable indicator of future results.
CFDs are complex instruments and come with a high risk of losing money rapidly due to leverage. 75,21% of retail investor accounts lose money when trading CFDs with this provider. You should consider whether you understand how CFDs work and whether you can afford to take the high risk of losing your money.