Cathie Wood's main fund ARK Innovation ETF (ARKK) has fallen by more than 60 per cent in the past year, reaching levels at pandemic lows. This fund aims to invest in companies that are at the forefront of disruptive innovation in a variety of sectors, including: technology, healthcare and energy. The 3D Printing ETF (PRNT), which invests in 3D printing technology, was the best behaved fund, falling 30 per cent in value last year. Despite such 'bloodshed', Cathie Wood continues to buy Tesla (Tesla) shares. Could investing in the famous manager's funds be a good idea?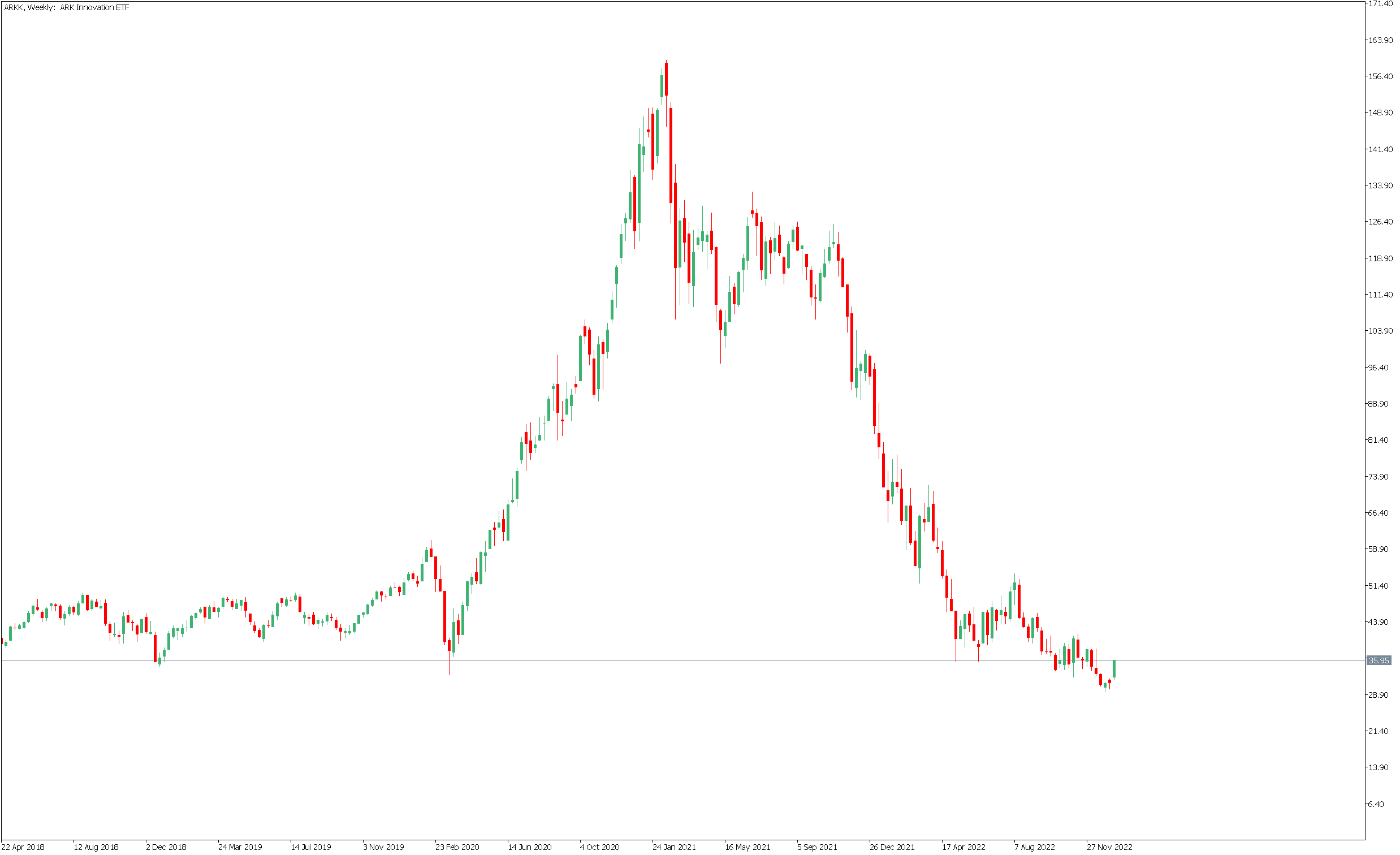 Source: Conotoxia MT5, ARKK, Weekly
Who is Cathie Wood and what is her investment philosophy?
Cathie Wood is the founder, CEO and lead investor at Ark Invest, a US-based fund specialising in investments in future technology solutions such as robotics, artificial intelligence, blockchain technologies, renewable energy inventions and more. Wood is known for her aggressive investments in technology companies and is regarded as one of the most important figures in the world of future technology investments.
Cathie Wood's investment strategy, used by Ark Invest, is to invest in companies related to so-called disruptive technologies. This means that the fund focuses on investing in companies that have the potential to radically change their industry or even an entire industry sector through new and innovative technologies. This strategy is often referred to as investing in the future or investing in future technologies, as it focuses on selecting companies that have the potential to generate returns in the long term through their innovative solutions.
In her letter to investors, published on 12 January this year, Wood explains that the company was created to focus on disruptive innovation and share information on the convergence between different technology platforms. She says that 2022 was one of the most challenging years in the market's history. Investment transparency was more important than ever, as stocks of innovation-focused companies faced greater difficulties. She also mentions that the bond market suggests that reality may surprise us with lower inflation (possible deflation) than most analysts expect. Wood assesses that the current market situation presents an opportunity for innovation strategies to flourish as equity markets regain strength. She also mentions specific examples of innovation that the 2022 stock market has almost ignored, such as ChatGPT, a version of GPT-3 optimised for conversations.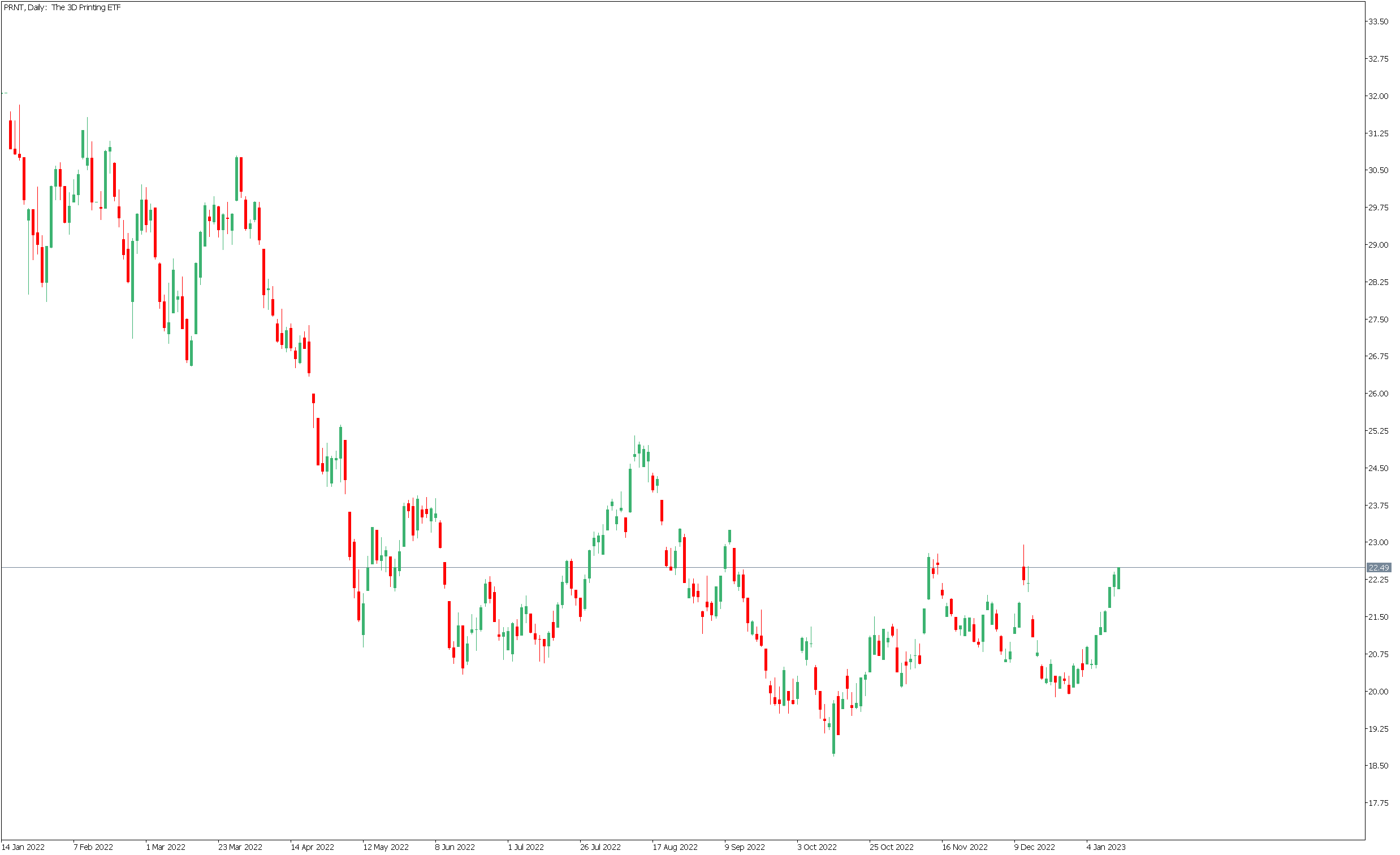 Source: Conotoxia MT5, PRNT, Daily
Unfavourable macroeconomic environment
The problem with the ARK Innovation ETF portfolio appears to be that of the 28 companies, only two reported a profit from their operations in the last report. Meanwhile, these companies are dependent on an influx of new capital, which now, in an era of record-high interest rates, seems to be extremely hard to come by. Therefore, it seems that as long as there is no cheap capital on the market, innovative companies possibly prosper less and less, raising capital to sustain their operations at an ever higher cost.
Despite this, Wood continues to buy Tesla shares, with the Ark Innovation ETF buying 168,989 shares in the company on 13 January, worth $20.7 million. Tesla shares have fallen 65% over the past year due to production and demand issues. Wood defends its strategy, stressing that it has a five-year investment horizon. However, the fund has not seen positive returns over the past year and has missed its target of a 15% annual return over a five-year period. This has led to an outflow of investor capital from the fund. Wood remains popular with investors, however, due to a successful year in 2020, when the Ark Innovation ETF rose 153%.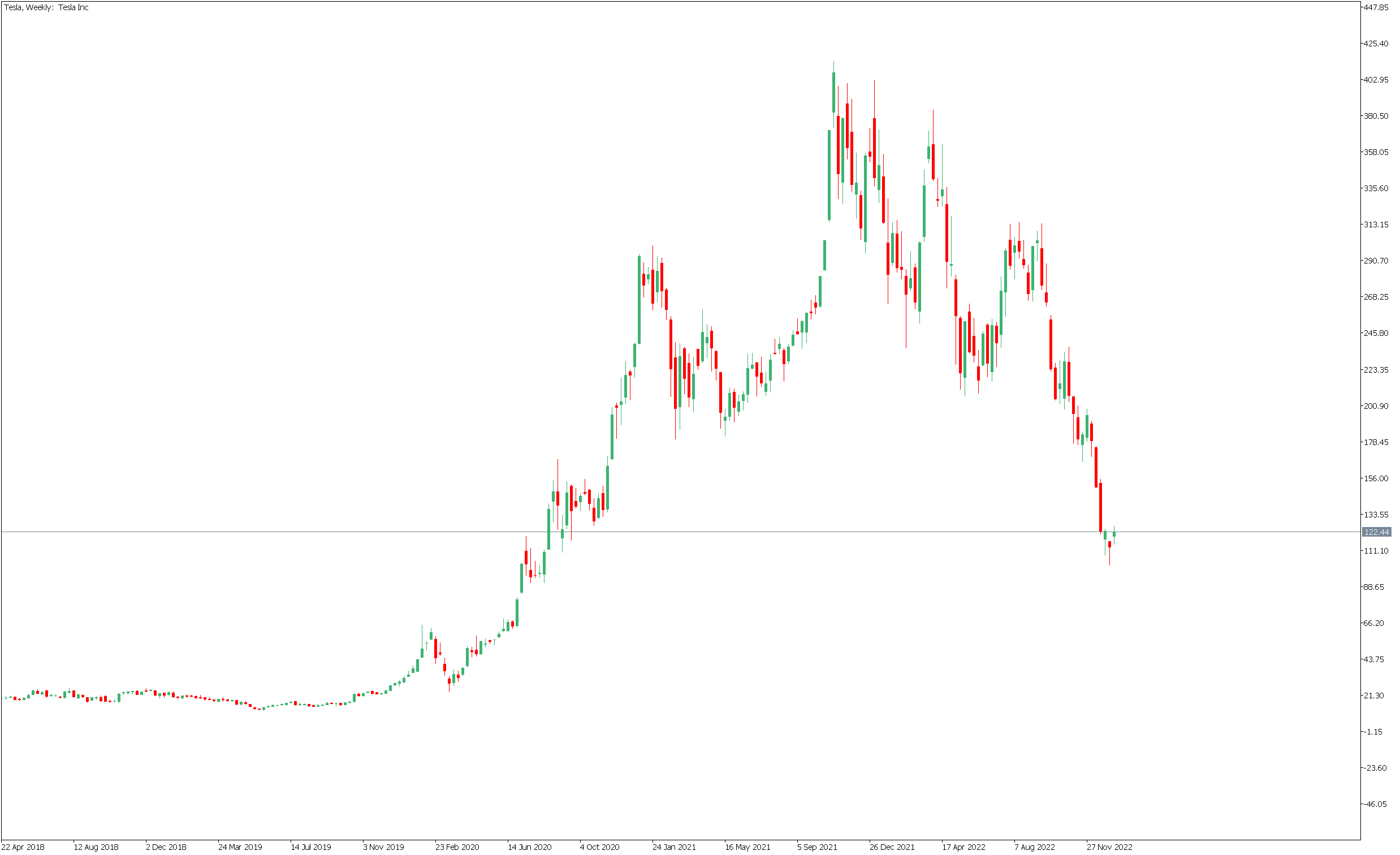 Source: Conotoxia MT5, Tesla, Weekly
Buffett's philosophy continues to prevail
US billionaire Warren Buffett is known for his long-term approach to investing, focusing on stable and well-managed companies. His investment philosophy is based on a thorough financial analysis of a company's fundamentals, allowing him to select companies with a proven history of profits and long-term potential. Unlike Wood, Buffet looks first at the fundamentals of a business only later at its growth potential. Through this approach, he seems to beat the market in the long term and does not suffer monumental losses like Ark Invest in a downturn.
Grzegorz Dróżdż, Junior Market Analyst of Conotoxia Ltd. (Conotoxia investment service)
Materials, analysis and opinions contained, referenced or provided herein are intended solely for informational and educational purposes. Personal opinion of the author does not represent and should not be constructed as a statement or an investment advice made by Conotoxia Ltd. All indiscriminate reliance on illustrative or informational materials may lead to losses. Past performance is not a reliable indicator of future results.
CFDs are complex instruments and come with a high risk of losing money rapidly due to leverage. 76,41% of retail investor accounts lose money when trading CFDs with this provider. You should consider whether you understand how CFDs work and whether you can afford to take the high risk of losing your money.