The streaming giant's stock has had a rough time of it. As recently as November, one Netflix share cost $700. By contrast, six months later - during summer holidays, a share of the company had to be paid just over $160. Now Netflix is planning a change to include ads in its suite of streaming services.
According to investment firm Evercore cited by Bloomberg, the introduction of an ad-supported plan could be one of the biggest catalysts for IT and streaming companies over the next 12 months. Evercore, which studies Netflix users by conducting surveys, notes that this could give the company tangible benefits and is shifting its recommendation to behave better than the market (outperform).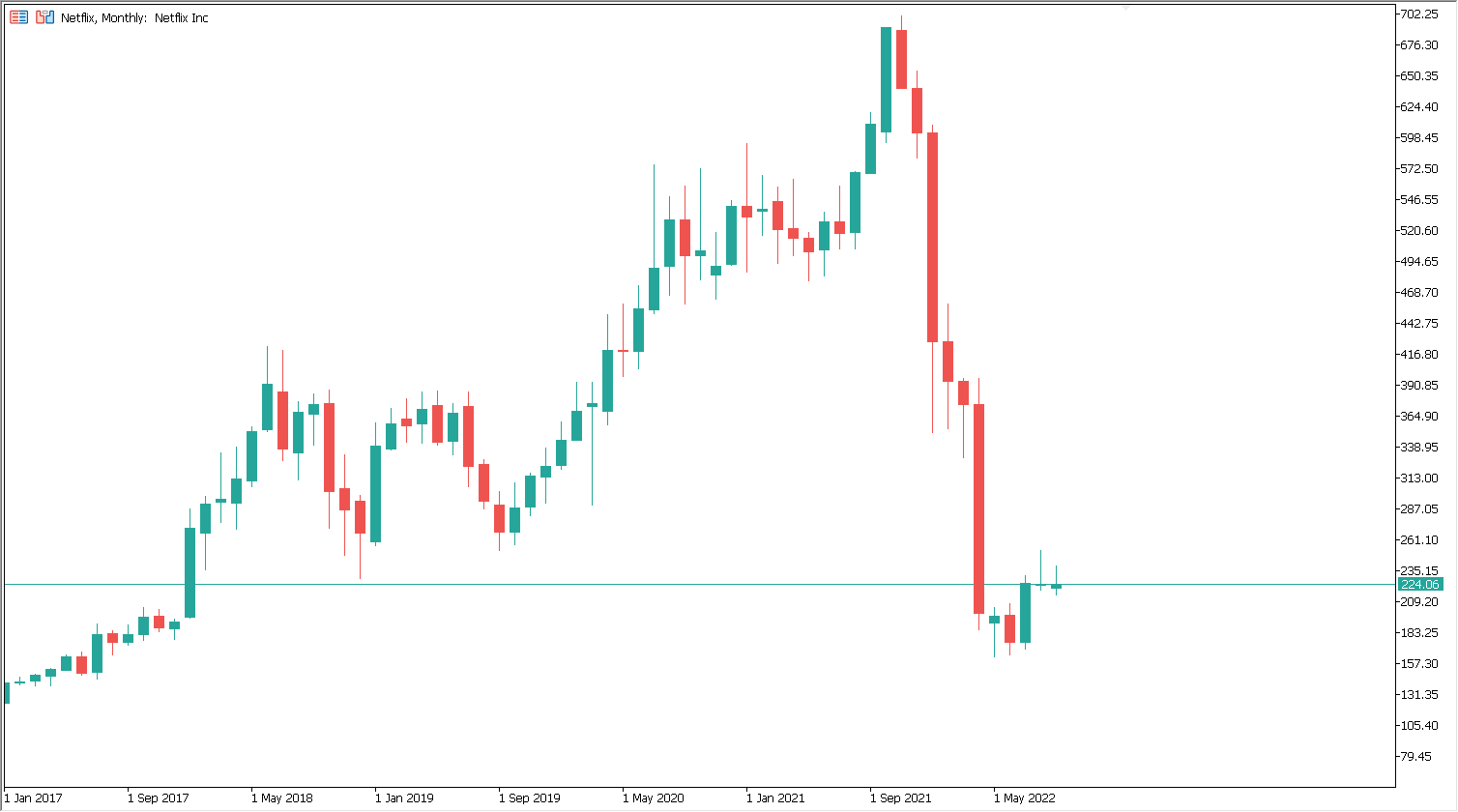 Source: Conotoxia MT5, Netflix, MN
How much can Netflix's revenue grow?
The upcoming ad-supported service could cause the company's revenue growth to accelerate, and more than Wall Street currently expects, Evercore analysts note in a note to Bloomberg. It looks like the idea could bring both an increase in average revenue per user and margin from sales. According to the survey, more than 20 percent of Netflix users who have abandoned the offer due to subscription rates will be able to return to the service, as they will be able to get a lower subscription in exchange for ads. This could result in a $1-2 billion increase in annual revenue.
Netflix's operating income for the quarter ended June 30, 2022 was $1.578 billion, down 14.58 percent year-on-year. In contrast, the company's operating income for the twelve months ended June 30, 2022, was 5.937 billion, down 2.3 percent year-on-year.
Paid password sharing on Netflix?
It seems that the bane of all paid services, which can be used by several people at the same time, is paying one subscription and sharing passwords with others. The companies are losing crores on this, and are constantly figuring out how to reduce this practice or how to block it. An Evercore survey found that 40 percent of people who now share passwords would be willing to pay an additional $2-3 per month. This, in turn, could raise Netflix's annual revenue by another $500 million to $1 billion. Hence, Evercore raised its price target on the company from $245 to $300.
Wall Street recommendation - Netflix shares
According to data from MarketScreener, as of September 15, 2022, the company has 10 buy recommendations, 25 hold recommendations and 2 sell recommendations. The average target price level is at $244.69. Relative to the closing price on September 14, 2022, this could imply an increase of 9.18 percent, while the highest target price level falls at $399, and the lowest is at $157.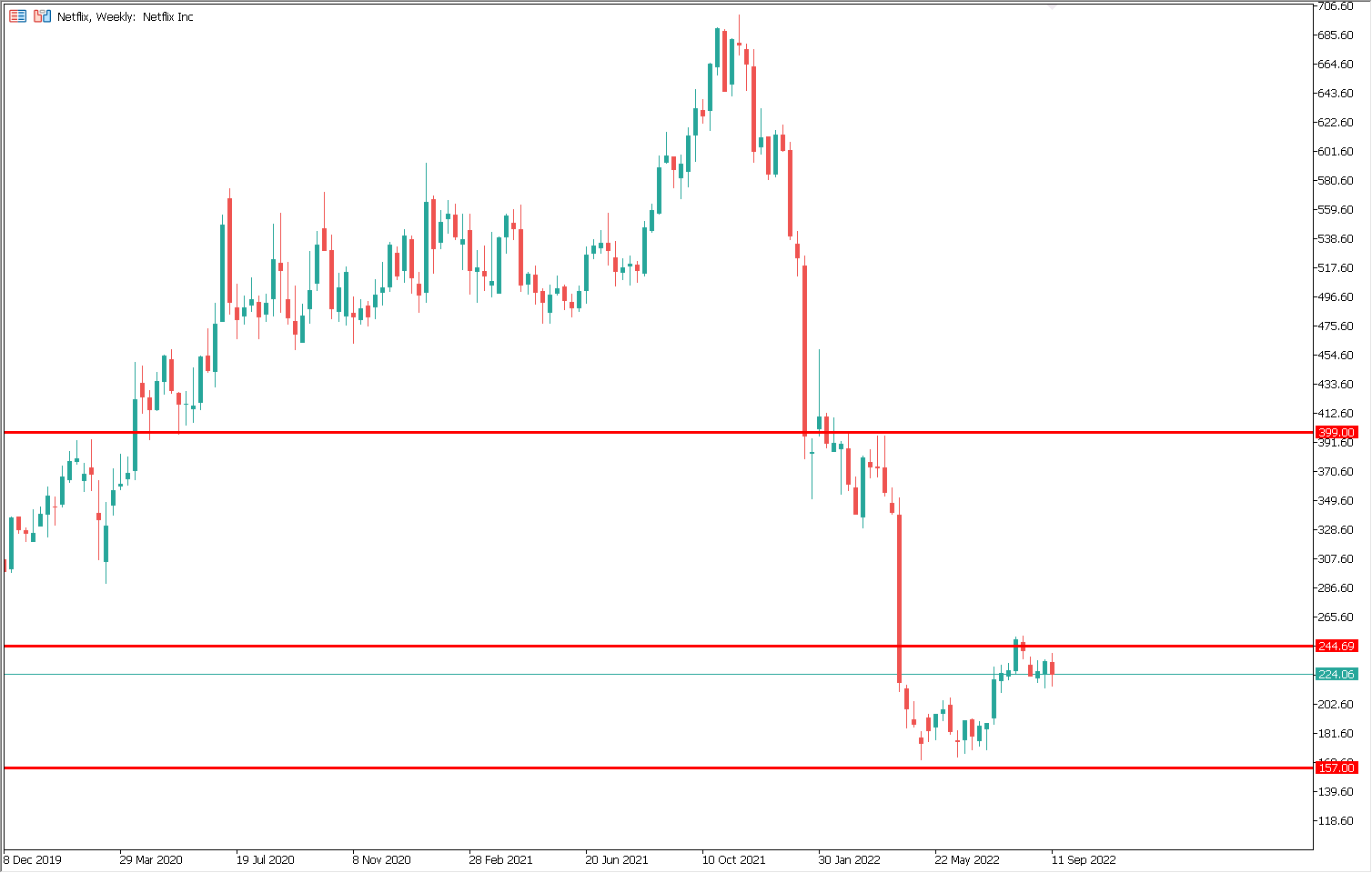 Source: Conotoxia MT5, MarketScreener.com - average, highest and lowest target price levels for Netflix shares on Wall Street.
Daniel Kostecki, Director of the Polish branch of Conotoxia Ltd. (Conotoxia investment service)
Materials, analysis and opinions contained, referenced or provided herein are intended solely for informational and educational purposes. Personal opinion of the author does not represent and should not be constructed as a statement or an investment advice made by Conotoxia Ltd. All indiscriminate reliance on illustrative or informational materials may lead to losses. Past performance is not a reliable indicator of future results.