Following Monday's Wall Street Journal reports of a possible increase in oil production by the OPEC cartel by 500,000 barrels per day, the price of Brent crude (XBRUSD) fell by more than 5%. When Abdulaziz bin Salman, Saudi Arabia's Minister of Energy, subsequently denied the reports, crude prices returned to pre-announcement levels. However, let's have a look at how the price of crude could evolve in relation to supply and demand.
Supply in the oil market
According to the aforementioned Saudi Arabian energy minister, "The current cut of 2 million barrels per day by Opec+ continues until the end of 2023 and if there is a need to take further measures by reducing production to balance supply and demand, we always remain ready to intervene."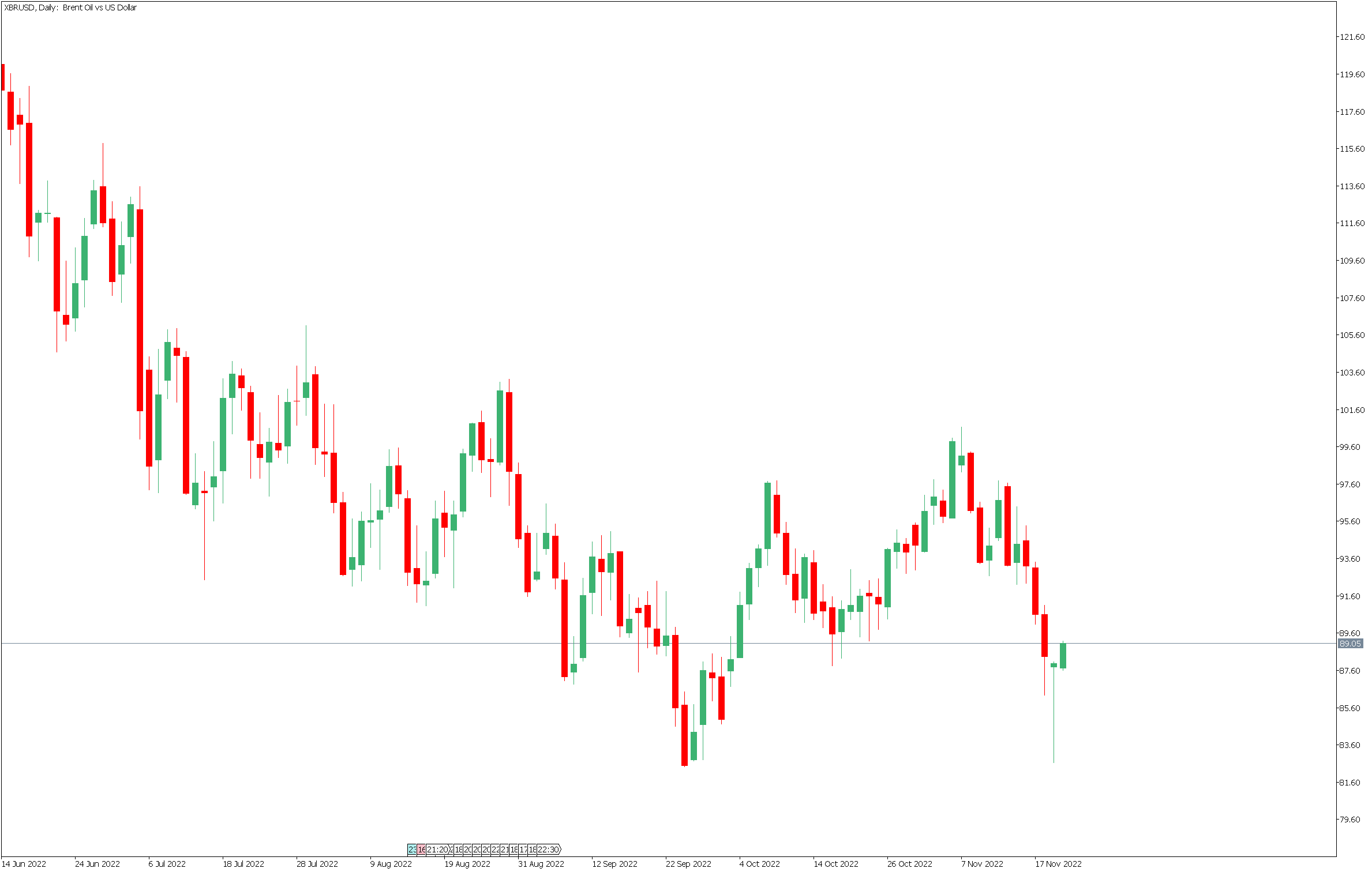 Source: Conotoxia MT5, XBRUSD, Daily
Currently, according to data reported by the cartel, global supply of this commodity amounted to 100.38 million b/d, against demand of 99.32 million b/d. At the last OPEC meeting, the decision was taken to make one of the largest production cuts of 2 million b/d, which would give a production level of around 98 million b/d. Let us remember that a production shortfall could significantly affect countries heavily dependent on oil prices. An example of such a country would appear to be the United States, which is also the largest oil producer globally (currently 19 per cent of world production). To patch up the dwindling supply of this commodity, we could see the US respond by reducing its inventory levels by 5.4 million barrels among companies.
Uncertain crude demand situation
Reports of a slowdown or possible recession from one of the largest consumers of the commodity, China, may be worrying. They currently account for about 15 per cent of global oil demand and have daily consumption in the region of 15 million b/d. A significant share of the consumption of this crude for China's economy appears to be industrial production, which, according to the latest PMI reading of 49.2, allows talk of a slowdown. Reports of an intensification of the fight against a pandemic in the middle country may have pushed WTI crude oil prices (XTIUSD) lower.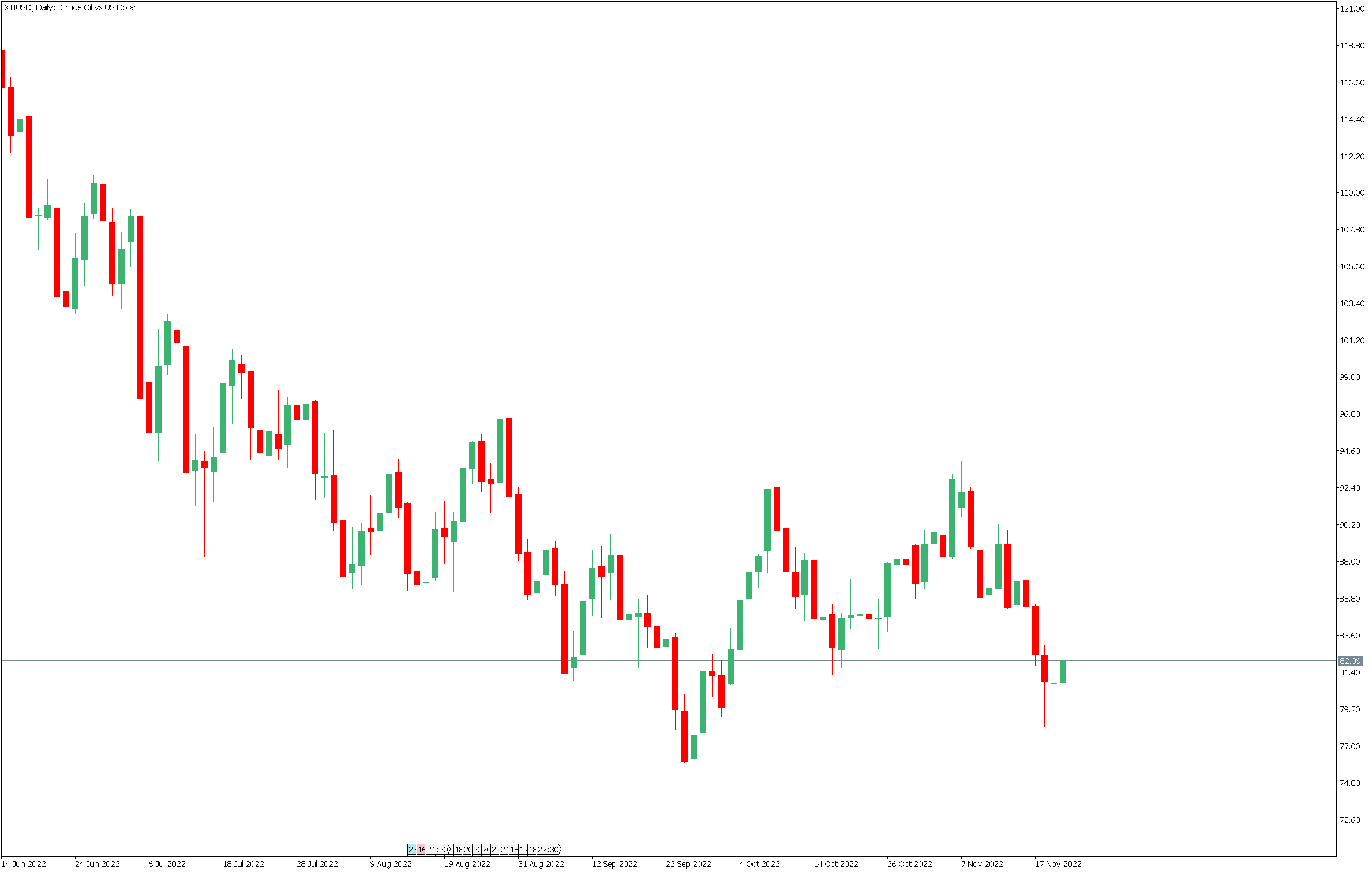 Source: Conotoxia MT5, XTIUSD, Daily
The OPEC cartel's current forecasts for global demand in 2023 average 101.82 million b/d (up 2.24 million b/d y-o-y). We may approach these with some caution as they were published ahead of reports of a possible slowdown, pandemic restrictions in China and production cuts by the cartel. The latest report will appear on 13 December, after the OPEC meeting (3 December).
Possible scenarios
The market situation for this commodity points to several possible scenarios. The first would be for OPEC not to increase production and for Chinese demand to fall. In that case, for demand to equal supply, it would have to decrease in China by about 13 per cent (2 million b/d), which seems unlikely.
A second scenario could be the Wall Street Journal's description of a 500 000 b/d reduction in production and a decline in demand from China. In this case, the equalisation of demand and supply would be caused by a decline in global demand of around 1.5 per cent or in China alone of 10 per cent, which also seems unlikely.
In the latter scenario, China is coping with a recession and a coronavirus attack, causing a crude shortage of around 2 million b/d (around 2 per cent of total demand). This would give signals for an increase in its price over the coming quarters.
Grzegorz Dróżdż, Junior Market Analyst of Conotoxia Ltd. (Conotoxia investment service)
Materials, analysis and opinions contained, referenced or provided herein are intended solely for informational and educational purposes. Personal opinion of the author does not represent and should not be constructed as a statement or an investment advice made by Conotoxia Ltd. All indiscriminate reliance on illustrative or informational materials may lead to losses. Past performance is not a reliable indicator of future results.
CFDs are complex instruments and come with a high risk of losing money rapidly due to leverage. 75,21% of retail investor accounts lose money when trading CFDs with this provider. You should consider whether you understand how CFDs work and whether you can afford to take the high risk of losing your money.