This year's G20 summit seems to be accompanied by heated events: multiple bombings of Ukraine by Russia, a missile explosion in the NATO zone or the cryptocurrency market crash after the FTC, the third largest cryptocurrency exchange, declared bankruptcy.
Macroeconomic data
On Monday, we could see the first signs of a slowdown in the Chinese market after data on a 5% (y/y) increase in industrial production. A reading of 5.2% was expected and the previous reading was 6.3% y/y.
On Tuesday, the result of the ZEW institute's German business sentiment survey came as a positive surprise. The result of minus 36.7 points (previously -59.2 points) was 13.6 points better than expected. Let us recall, however, that values below zero indicate an expected deterioration in the situation of companies. We could also see a warming on the quotations of Germany's largest index Dax (DE40).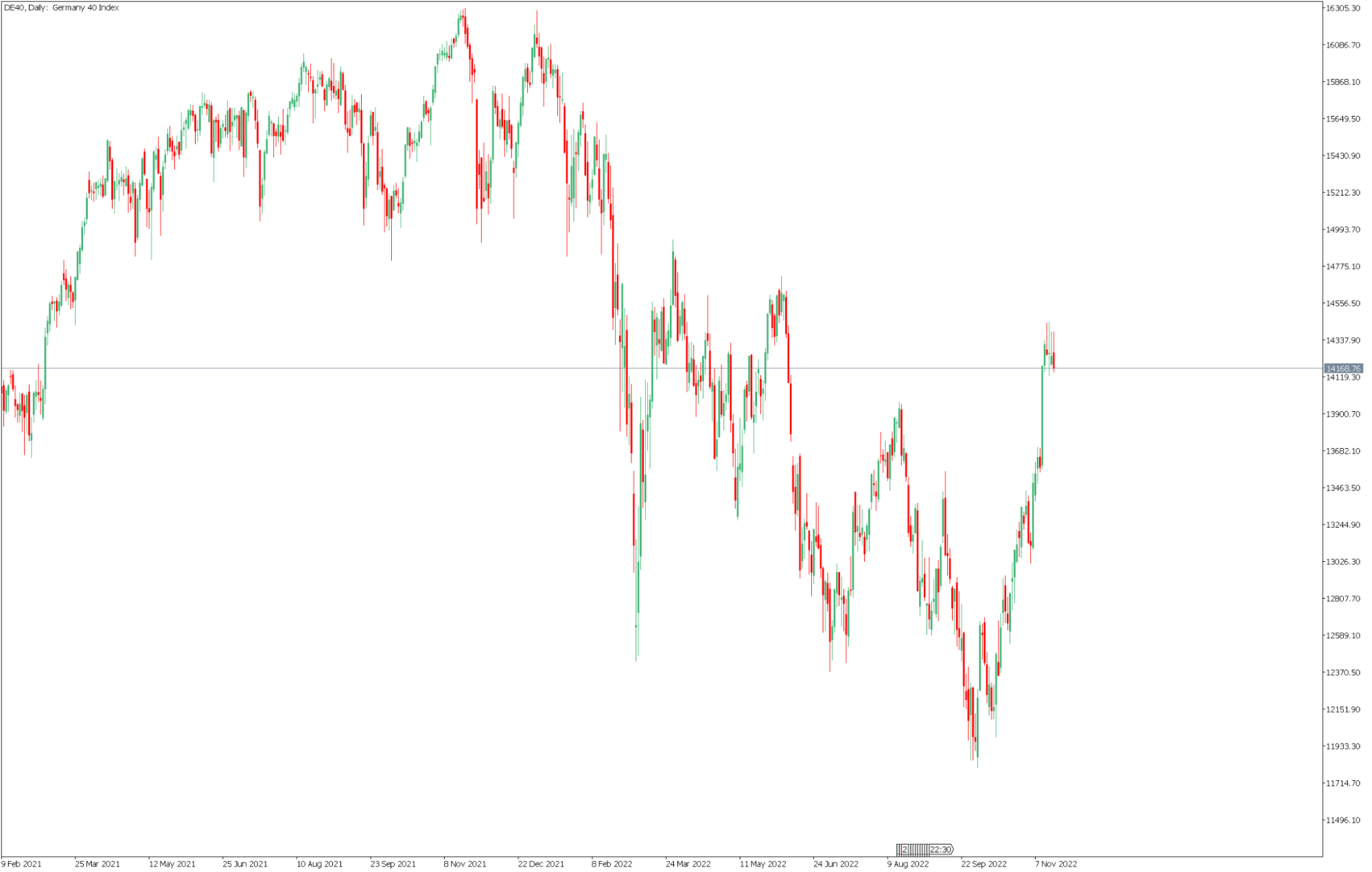 Source: Conotoxia MT5, DE40, Daily
We started Wednesday with inflation data from the UK. Price dynamics in the Isles came in higher than expected, reaching 11.1% y/y. (10.7% was expected). The previous reading was 10.1%.
On Wednesday, the EIA reported a 5.4 million barrel reduction in US crude inventories (a 0.44 million drop was expected). Are these further signs of an effort in President Joe Biden's announcement to combat the price of oil by increasing the supply of oil on the market?
On Thursday, we learned that euro area CPI consumer inflation of 10.6% (y/y) was almost in line with analysts' consensus (10.7% was expected). This marks another quarter of rising inflation (previously 9.9% y/y). On the same day, Eurostat reported that, according to the HICP inflation measure, prices in the euro area grew at a rate of 11.5% y/y in October. (10.9% y/y in September). According to this institute, 11 of the 30 countries surveyed recorded a decrease in inflation from the previous month. The surprise of the day, however, seemed to be the Philadelphia Fed Manufacturing Index reading, which came in at -19.4 points (-6.2 points had been expected). This index, in a similar way to the previously mentioned ZEW, surveys business expectations in the state of Philadelphia.
The stock market
As the week began, we learnt about the 13F report, which discusses the changes in the portfolios of the largest mutual fund managers in Q3 this year. Among other things, we learned that Warren Buffett's fund, bought shares in one of the world's largest semiconductor manufacturers Taiwan Semiconductor (TaiwanSemic) or investment bank Jefferies Financial Group Inc. (Jefferies). Furthermore, it increased its positions in petrochemical company Occidental Petroleum Corporation (OcPetroleum) by 22%.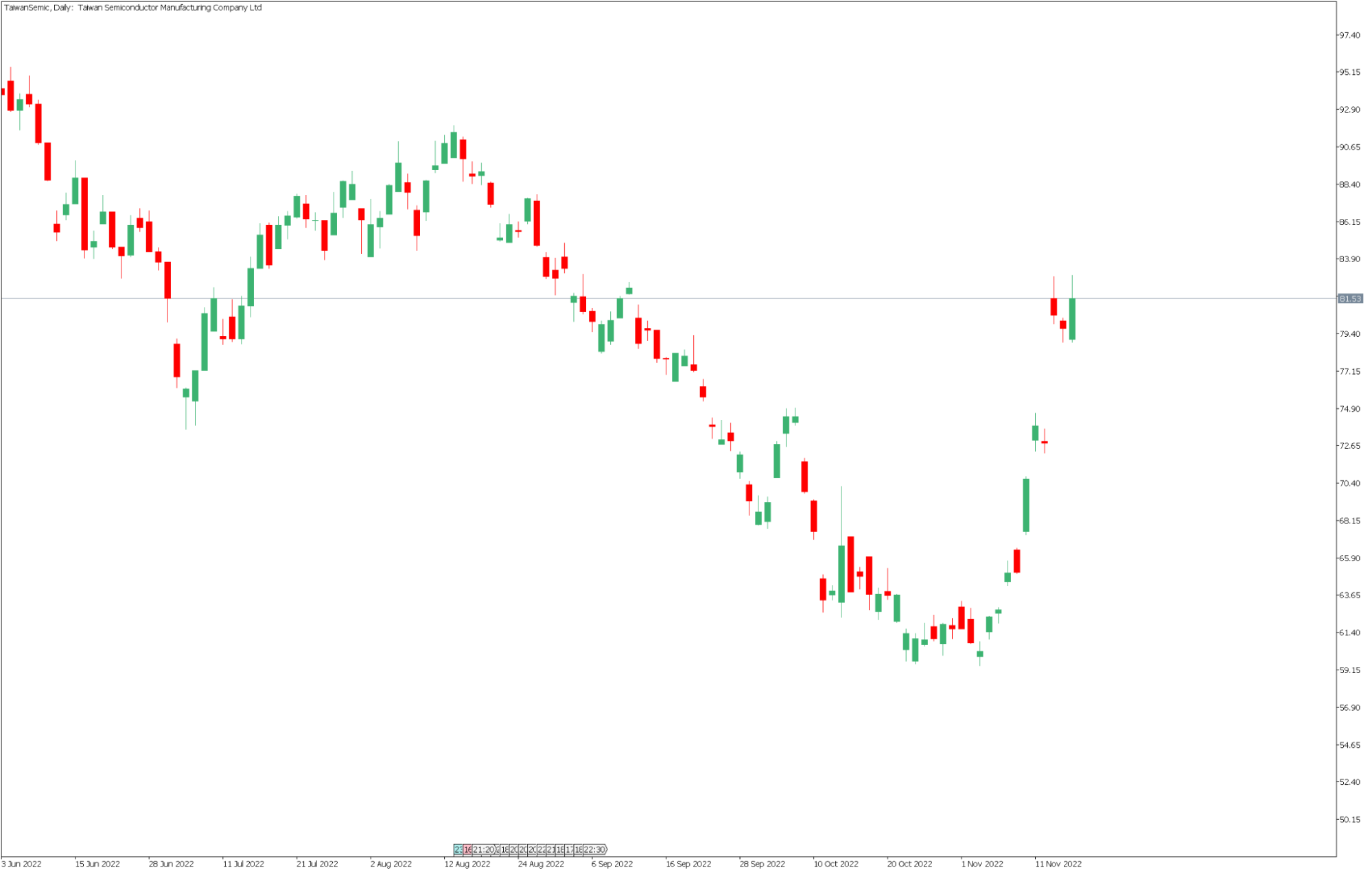 Source: Conotoxia MT5, TaiwanSemic, Daily
We also learnt the Q3 results of Walmart, the largest retailer in the US. Here, the data may have positively surprised analysts with earnings per share EPS of USD 1.5 (USD 1.32 was expected). This represents a 3% year-on-year increase in earnings.
On Wednesday, we learned about the results of software and processor technology company Nvidia. It reported a decline of more than 50% year-on-year in earnings per EPS of US$0.58 (US$0.69 was expected). The company's largest source of revenue is the sale of cloud computing power. This area appears to have lifted results, as it grew y/y. by 31%, which we could find out more about in the article we published.
Currency and cryptocurrency markets. The calm before the storm?
The EUR/USD pair is still above the 1.03 level. Following the aforementioned news of the bombing of Ukraine by Russia, the rate rose to 1.042, only to return to pre-attack levels within a few hours. It seems that the markets are not currently pricing the spread of war into the NATO zone.
The cryptocurrency market may have entered a wait-and-see phase. The price of the two largest ones, bitcoin (BTCUSD) and ethereum (ETHUSD), have moved by around 2% and 2.2%, respectively, since the beginning of the week, while earlier declines reached more than 30%. The situation is similar for the FTT cryptocurrency (FTTUSD) owned by the exchange that declared bankruptcy last week.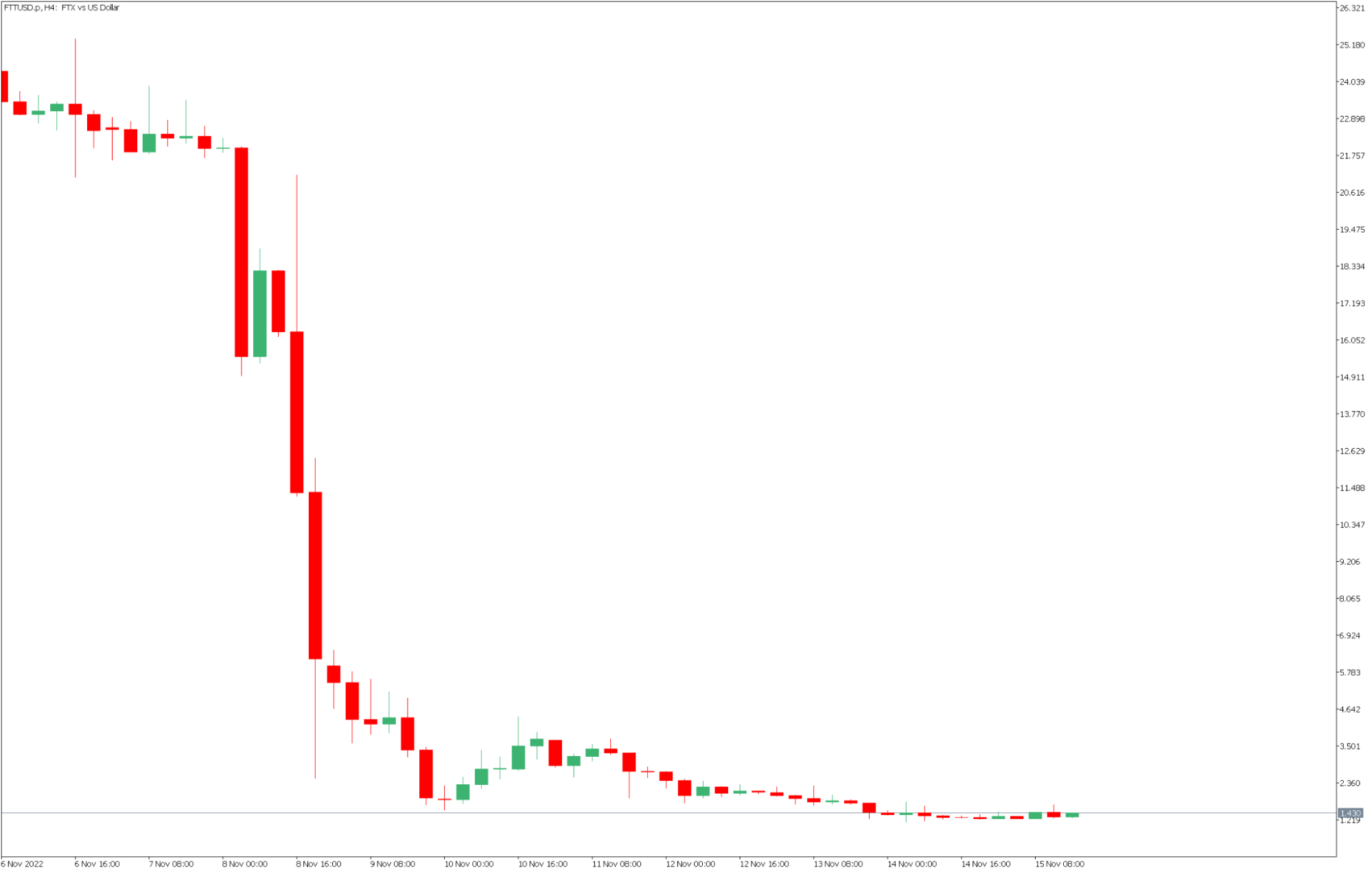 Source: Conotoxia MT5, FTTUSD, H4
Looking at the subdued volatility on the major currency pairs this week, it seems that the current week is a wait-and-see by investors for new information that would help determine the final direction of the macroeconomic situation and answer the questions of whether we are currently watching peak inflation and when we could expect possible changes in central bank policies.
What could we expect next week?
On Wednesday, the German PMI industrial managers' sentiment index will be known. The consensus expected by analysts is for no change and a reading of 45 points (previously 45.1 points). The October US new home sales data also seems likely to prove important on the day. A fall to 578,000 (previously 603,000) is expected. Non-farm employment information may also be key.
Among the companies, already concluding their Q3 earnings season, ZOOM Video (Zoom) will publish reports on Monday. On Tuesday, we will see the results of medical equipment manufacturer Medtronic (Medtronic) and semiconductor software technology company Analog Devices (AnalogDev).
Grzegorz Dróżdż, Junior Market Analyst of Conotoxia Ltd. (Conotoxia investment service)
Materials, analysis and opinions contained, referenced or provided herein are intended solely for informational and educational purposes. Personal opinion of the author does not represent and should not be constructed as a statement or an investment advice made by Conotoxia Ltd. All indiscriminate reliance on illustrative or informational materials may lead to losses. Past performance is not a reliable indicator of future results.
CFDs are complex instruments and come with a high risk of losing money rapidly due to leverage. 75,21% of retail investor accounts lose money when trading CFDs with this provider. You should consider whether you understand how CFDs work and whether you can afford to take the high risk of losing your money.