Adobe may be well known for its popular PDF reader Adobe Acrobat Reader. However, the company's flagship product is the Creative Cloud suite known in the computer graphics or design community. CC gives subscribers access to a collection of graphic design, video editing, web development, and photography software, as well as a suite of mobile applications and some cloud services.
Despite having its pervasive software, the San Jose, California-based company decided to spend about $20 billion to acquire Figma. Figma, in turn, has software similar to that offered by Adobe, which allows people to create graphics together at one time. Shareholders probably didn't like this acquisition, as the share price fell more than 16 percent yesterday. In total, Adobe shares have shrunk by 45 percent since the beginning of the year. At the close yesterday, one Adobe share cost less than $310, and as recently as November 2021 its price was $700.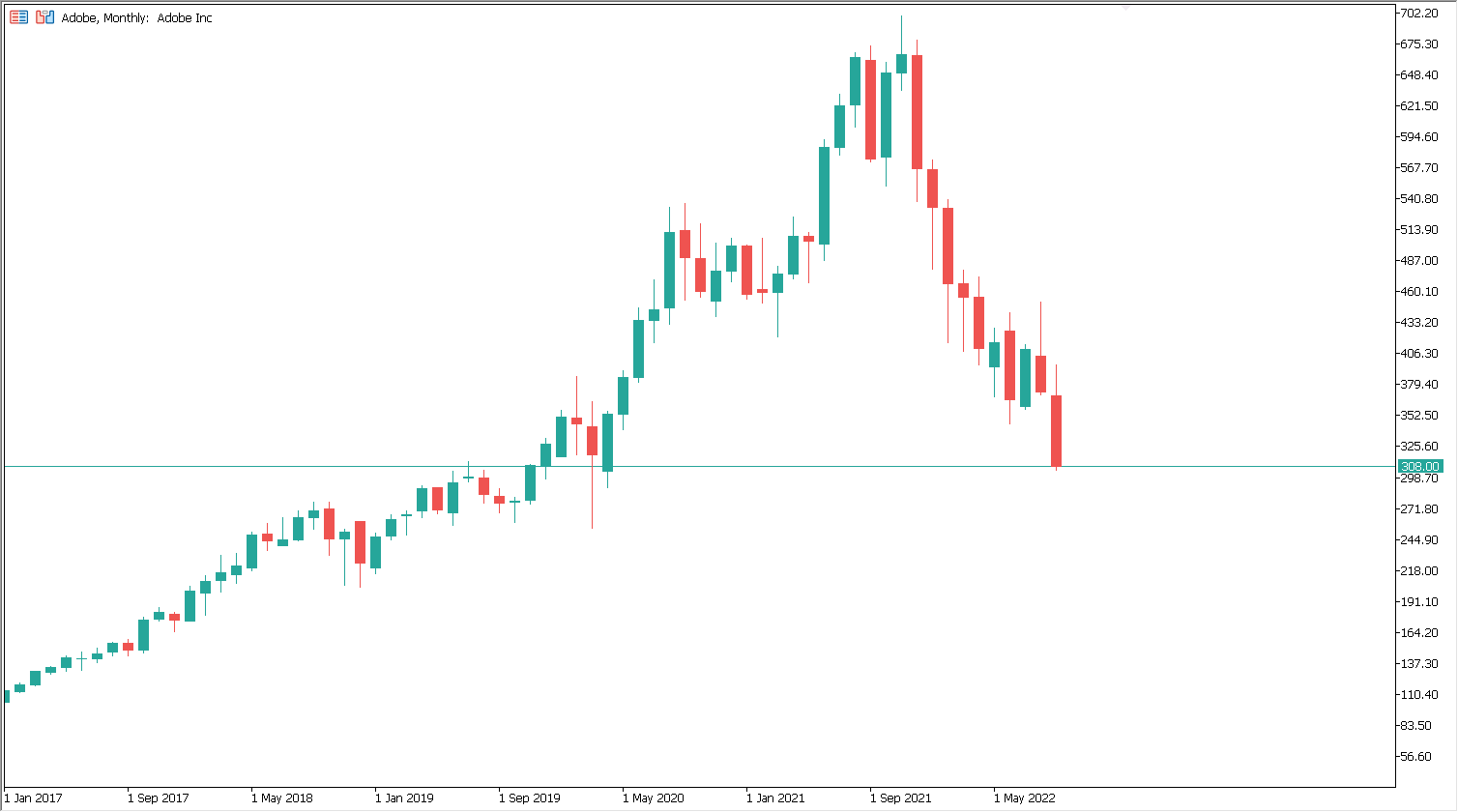 Source: Conotoxia MT5, Adobe, MN
Is Adobe deal questionable?
Analysts quoted by Bloomberg lowered their price targets for the San Jose-based company after yesterday's news, with some saying the expensive deal raises doubts about Creative Cloud's potential.
Cowen's analysts lowered their price target from $520 to $400, saying the Figma deal breaks with Adobe's historical approach of paying relatively low multiples for acquisitions. "Our initial reaction is either this is a sign of saturation of growth in Creative Cloud, or Figma is a growing competitive threat." The deal introduces a new platform and should have synergies with other parts of Adobe's portfolio, the analyst note said.
According to BMO, Figma could be an interesting asset in Adobe's suite, with annual revenue growth of 100 percent year-on-year. However, the analysts lowered their target price for the company's shares from $435 to $345.
What are the recommendations for Adobe?
Despite a steadily slipping share price since the end of last year, the company on Wall Street has no sell recommendations, according to data from the MarketScreener portal. Instead, there are 16 buy recommendations and nine hold recommendations. The average target price level is $417.44 and is 35 percent higher than the closing price on Thursday, September 15, 2022. The highest recommendation sets the target level at $549 per share, while the lowest indicates $337 ($30 above the last closing price).
Daniel Kostecki, Director of the Polish branch of Conotoxia Ltd. (Conotoxia investment service)
Materials, analysis and opinions contained, referenced or provided herein are intended solely for informational and educational purposes. Personal opinion of the author does not represent and should not be constructed as a statement or an investment advice made by Conotoxia Ltd. All indiscriminate reliance on illustrative or informational materials may lead to losses. Past performance is not a reliable indicator of future results.